Environmental Sustainability: The Wendy's Way
Announcing Squarely Sustainable™, Our Approach to Environmental Sustainability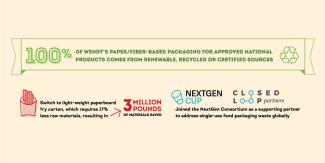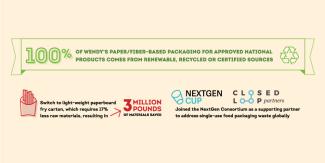 It's said that a picture is worth a thousand words. That was certainly true with the image that went viral of a sea turtle with a plastic straw lodged in its nose. This picture, and many others showing mounds of plastic waste in our oceans and waterways, created a rallying cry for the world to get more serious about limiting or eliminating this kind of waste for the good of our environment.
At Wendy's, we know our customers are increasingly aware of packaging waste and its impact on our environment, and they're also looking for more eco-friendly packaging options. Many of you are already doing your part – being more conscious about product use, and reusing or recycling where possible. We want to be a part of the solution – not part of the problem – so we're on a journey to be better and become a more sustainable, environmentally conscious brand. It started several years ago when we eliminated Styrofoam packaging from our restaurants, and we took another step forward today by joining a group of experts and conservationists who are working together to find – and fund – solutions to single-use plastic and paper packaging. We're so committed that we're proudly participating in the NextGen Cup Challenge, which is focused on identifying new and existing cup solutions designed to optimize the hot and cold fiber cup used by many foodservice operations. We are also looking at our entire portfolio of packaging to identify ways to make improvements and minimize paper and plastic waste.
We're approaching this as an opportunity and a way to think about the packaging that goes around our food in the same way we think about the food itself. With our food and beverages, we don't just buy what's available. We first define what we believe should be available for our customers (like Dave Thomas did in 1969 when he decided that the best hamburgers are made from fresh, never frozen beef*), and then work with our partners to bring it to life.
The issue of single-use plastics and paper is not an easy one to solve, but that's not a reason to give up. There simply are not widely available, commercially feasible packaging options to replace plastic, particularly when it comes to items like straws and lids that are recyclable, compostable or biodegradable. And honestly, those lids and straws serve a purpose and help us avoid messy or potentially dangerous issues when it comes to serving hot beverages, so they need to stand up to the test. Our friends at Closed Loop Partners have also figured out that while lids and straws are the focus of a lot of public attention right now, we also need to solve for the cup itself. Foodservice beverage cups are typically made of valuable pulp fiber, but serious infrastructure changes need to happen in order for that pulp to be recovered and reused.
We're excited to be on this journey with great partners, and partnership is a key part of our approach to develop effective sustainability. Or as we like to call it, a Squarely Sustainable™ approach. Like any good square, Squarely Sustainable™ has four corners:
Use Less and reduce unnecessary materials use – we know we can look across all of our packaging and find opportunities to minimize waste.

Use Better and seek certified sustainable materials where possible – we're also working on the recyclability or recoverability of materials wherever possible.

Spark Action by identifying consumer-facing actions that can drive change – for instance, most Wendy's dining rooms today have Coca-Cola Freestyle machines where lids and straws are self-serve, so you can take one only if you need it.

Engage Partners to work with others to find solutions on important issues – smart partners like Closed Loop Partners help us get better and we benefit from their focus and expertise.
This is a corporate social responsibility approach we've applied with great success and look to continue as we embark on new, ambitious goals to build far more Wendy's across the globe, and do that responsibly. Our Smart designs, which are smaller than our legacy building, and use less materials and require less land to build (which also helps our restaurants fit on real estate that wasn't previously available to us). We use better materials, like energy-efficient equipment, LED lighting and furniture made from recycled materials. We spark action with our franchisees by creating attractive economics on the buildings and incentives, so they are willing to fill the pipeline with Smart restaurants. And we engage partners like leading designers, architects, engineers, builders and government agencies to set goals and report on our progress to save energy, making our Smart dreams a reality.
I'm confident that we'll have great partnerships with Closed Loop Partners and many others on this journey, too. I'm excited to share more in the coming months…so watch this [square] space.
* Fresh beef available in the contiguous U.S., Alaska and Canada.