Growing Foster Care Adoption Awareness with Frosty 5K
Read time: 1 min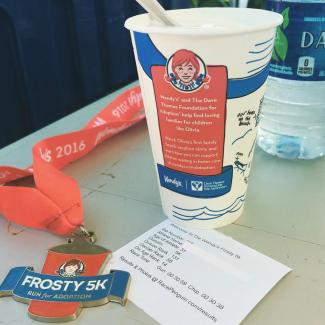 The Square Deal™ welcomes Dawn Culbreath to the blog.  Dawn is the executive assistant to Gunther Plosch, our Chief Financial Officer.  She was one of the key organizers of the recent Frosty® 5k which was held in Columbus, Ohio.  This race has very quickly grown both in funds raised and number of participants over the past four years.  We're delighted to recognize the Frosty 5k planning team on our blog to raise awareness for a cause that we care so deeply about.
It was 5:30 AM on Sunday, July 31, 2016.  Volunteers were arriving at Huntington Park®, a minor-league baseball stadium in downtown Columbus, Ohio, to set up for the fourth annual Frosty 5k, benefiting the Dave Thomas Foundation for Adoption®.  Although the sun had yet to rise, we knew it was going to be a beautiful day. 
The planning team had scrutinized and anticipated every detail to ensure participants would have a top notch experience.  It was difficult to balance both our nerves and excitement.  After all, it was just four short years ago that this race began as an Information Technology (IT) department fundraiser for the Foundation within the Wendy's® Restaurant Support Center (aka headquarters) walls.  The inaugural race saw a then impressive turnout of 70 runners and we raised $2,400 for the Dave Thomas Foundation for Adoption.
In the early hours of July 31, 2016, we were preparing for the arrival of more than 550 runners and walkers and we were ready to write a "big check" for $65,000.
Doubling our growth each year over four years (that's a 5,900% increase!) is a pretty incredible feat, and we couldn't have done it without a team who are all passionate about finding homes for children in the foster care system.
But this growth and success rate didn't happen overnight.  If you're reading this blog and trying to grow a race within your own community, it's going to take a team who is dedicated to continuous improvement. 
For example, in our second year we improved the race with more aggressive outreach within our very own employee-base and encouraged participation from their personal network of family and friends.  We again hosted the race around our campus and raised $5,500 with 110 runners and walkers participating.
Making Big Moves
Then in 2015, the Frosty 5k Committee decided it was time to make a big move so we could host more runners.  We took our bib numbers down Ohio State Route 315 to Huntington Park, home of the Columbus Clippers® minor league baseball team, with the hopes of attracting racers within the broader central Ohio community, or, what we like to call the extended Wendy's family.  We also realized that in order to make more money, we needed to spend a little so we requested a modest operating budget from our then CFO and current CEO, Todd Penegor.  Todd not only approved our request but he reached out to our finance team to help us secure corporate sponsors.  The 2015 race had 300 participants and raised more than $30,000. 
This leap, while significant, showed our team that we were just getting started and potential for this race was boundless.   
We approached 2016 with goal of building on our solid foundation to exponentially grow the race in terms of an increase in runners/walkers and corporate sponsors. The team recognized, "we don't know what we don't know," so we expanded our small planning committee to include members from Wendy's Marketing, Operations, Finance, Communications, International and Field Marketing teams. 
Subcommittees were formed to focus on specific and critical areas from race logistics to registration drives to the swag bag.  We also made a heavy push on local marketing and were thankful for the support from our Columbus-based franchisees who all made commitments in order to see more success from the race.  These restaurant teams distributed more than 10,000 flyers, purchased Facebook ads and sponsored a Columbus Clippers game. 
We were able to raise a great amount of awareness for the Frosty 5k during the game and used the opportunity to celebrate our honorary Frosty 5k Family. Megan and Albert are the adoptive parents to CJ, formerly one of Wendy's Wonderful Kids®, and three other children, and are also in the process of adopting another son, Nick.  CJ was thrilled to throw out the first pitch and meet Clippers baseball players (CJ loves baseball).  This sponsorship provided a huge opportunity to grow race registration numbers within the Columbus market and recognize a wonderful family.    
On behalf of the entire Wendy's Frosty 5k Committee and volunteers, we are so thankful to the many runners and walkers within our community who have helped us quickly grow this annual event. 
We cannot wait for Frosty 5k 2017 to raise even more dollars for the Foundation so more forever families can be created.
To get involved in next year's race, please contact us at http://www.columbusfrosty5k.com/contact/.  
Thanks,
Dawn & the Frosty 5k Committee