Wendy's Future-Forward Approach to Restaurant Design
How We're Leaning Into Research and Customer Needs to Expand Our Global Footprint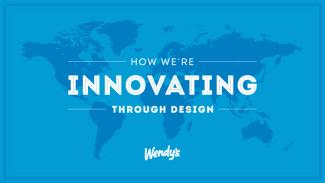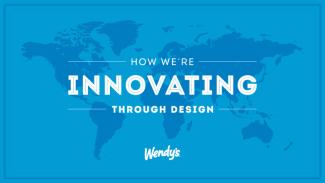 At Wendy's®, we are always exploring how we can stay ahead of the pack and offer solutions to bring more Wendy's to more people, and our creative, design-based solutions play a central role in accelerating global growth.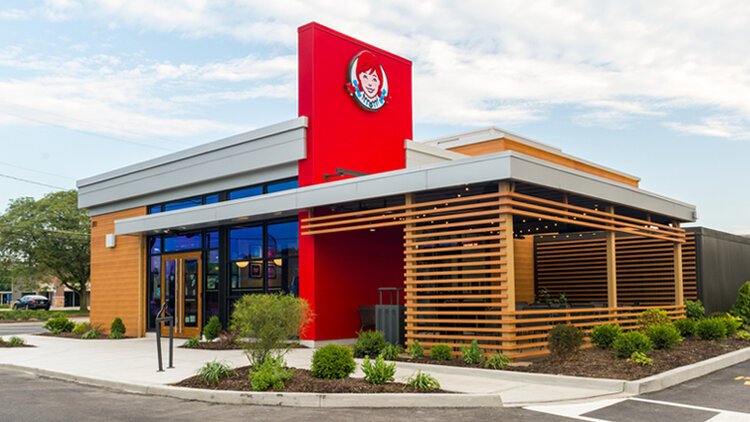 Developing our Smart 2.0 Model
As we pursue our growth goals, our design team keeps three questions front-and-center: 1) what are today's challenges; 2) what solutions exist to meet them; and 3) what future needs will we need to solve that will also drive growth?
Over the last few years, we researched the answers to these questions. We actively watched how people engaged with our brand, from observing different transaction touchpoints to assessing how fans engaged with our menu boards. We also surveyed franchisees to best meet their needs. This process ultimately unlocked the Smart 2.0 Model.
We uncovered insights that enhanced our design work:
- Marrying old and new: We tested a prototype restaurant that was intentionally technology forward, but we found our customers weren't ready for technology to be the primary ordering interface. This insight was invaluable because it forced us to recognize the need to marry technology solutions like kiosk and mobile with more crew managed ordering elements many customers were still looking for.
- Pick-up vs. Dine-in: We discovered that people lining up to order at the front counter and waiting for pick-up were impacting the experience for our dine-in customers. This observation led us to better define and separate our dining area from the ordering area. This created better clarity and navigation for both order and pick-up while improving the total in-store experience.
- Anytime, Anywhere: Mobile ordering, pick-up and delivery skyrocketed in 2020 and this trend continues. We've taken the pick-up, curbside and delivery orders out of the drive-thru making the wait time for our customers shorter and the pick-up process faster. Solving pain points and reducing friction has resulted in more efficient flow and improved contactless options for customers and delivery drivers.
These learnings led us to our current Smart 2.0 model, which is focused around designs that allow customers to order—and eat—however they please. Our designs are adaptable and designed to work well across any market and footprint. Other benefits include both reduced costs and increased efficiencies.
Ahead of Demand
Our research also resulted in concepts for ordering kiosks, modular buildings, drive-thru-only restaurants, and restaurants made out of shipping containers. We were ahead of demand for these types of assets when we started our research and were confident their benefits would drive interest from our franchisees.
Another exciting asset is the Frosty® Cart, a new way we are serving up a product customers know and love. Wendy's recently launched the first Frosty Cart at ZooTampa and it features classic chocolate and vanilla Frosty treats, Frosty Fusions and Build Your Own Frosty Sundae options. The Frosty Cart allows us to create a brand extension in a small footprint at a very reasonable investment level, and customer response has been fantastic!
The Frosty Cart is an example of how we think about design for our customers and operators. If franchisees are looking to open a restaurant in a dense urban core, a modular extension at a stadium or zoo, or have ideal real estate where customers rarely walk in, we offer a holistic set of solutions.
Design and the Drive-Thru
A large percentage of our customers utilize the drive-thru, so studying the habits of drive-thru customers and delivery drivers is a big focus for us. We created the drive-thru-only (DTO) concept to serve our largest audience and reduce costs. We began working on it prior to the pandemic, which put us ahead of our competitors when governments began mandating restaurant closures.
The name "drive-thru-only" is a bit of a misnomer. We call it "DTO+" because there is a small vestibule in the building to accommodate people who want to order inside and/or to facilitate opportunities like curbside, mobile order and delivery pick-up.
Our DTO+ designs come in three variations, all of which allow us to scale quickly:
Stick Built (traditional construction).
Containers (which use shipping containers).
Conversion (these take existing non-restaurant spaces or former restaurants and allow us to convert them into DTO+ restaurants).
What's Next
The evolution of Smart 2.0 is NextGen Global 2.0, which we recently launched as our new International standard. NextGen Global 2.0 will further enhance operations for restaurant crew members in both the front and back of house and add an exterior pick-up window. The design overall will be less expensive to build and have more upgrades from which franchisees can choose, such as a covered area for outdoor seating, upgraded furniture and art for the interiors, and a new branded elements and messaging for the exterior.
Future Forward
Consumers are faced with new choices every day. In correlation, our research is never-ending. We're always on the hunt for the next great insight into consumer behaviors and needs. We will continue to evolve, leaning on innovation to enhance the customer experience wherever and however they choose to interact with Wendy's.
We're also consistently looking for existing buildings, like banks or retail spaces, to convert into a new Wendy's restaurant. Email us at RealEstate@Wendys.com with opportunities.
For the latest news, you can follow Wendy's on LinkedIn or if you have questions, tweet us @Wendys.