Get Pumped to Try Our Jalapeño Popper Sandwich & Salad
Read time: 1 min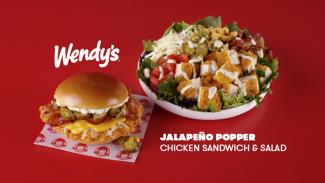 At Wendy's, our culinary team is constantly pushing the boundaries of flavor, flexing our creative and culinary muscles to bring forward new, innovative ideas to enhance the Wendy's menu in all the right ways. While we'll never stop perfecting the classics, our Made to Crave menu is truly my team's playground – our place to experiment with new concepts and introduce our fans to the latest flavor trends in familiar, yet unique-to-Wendy's, ways. We're particularly excited about our latest creation: the brand-new Jalapeño Popper Chicken Sandwich and Salad.  
The Jalapeño Popper Chicken Sandwich and Salad take the crunchy-and-creamy experience of one of America's favorite appetizers from a sit-down experience to two craveable, on-the-go formats.
I'm so proud of my team for staying true to their vision for this product. Their passion for creating gotta-have-it-now food shines through with every bite. The idea is bold – almost as bold as this intense flavor combination. And the result is incredible. Here's a deeper dive into the innovation process. 
The Inspiration
Our team knows the importance of tracking culinary trends when it comes to creating the next best thing in our kitchen – and we always work to incorporate them in ways our fans will love. Traditional jalapeño poppers have been a favorite for some time now, and we knew their popularity and familiarity was an opportunity to do what Wendy's does best – raise the bar when it comes to bringing bold flavor innovation, but in a really well-done and approachable way. Considering we already have an incredible spicy chicken fillet; it gave us a great jumping off point. Figuring out how to bring it all together is part of what makes my job incredibly fun.
Figuring Out the Flavors
When you think of a jalapeño popper, two key ingredients come to mind: cream cheese and jalapeños. A traditional popper also offers two key textures that you don't usually see together: creamy and crunchy. We knew that we had to strike the perfect balance when creating the Jalapeño Popper Chicken Sandwich and Salad flavor profile. We cracked the code when we landed the perfect blend of spices topped with our oven-cooked, Applewood smoked bacon (after all, nobody does bacon like Wendy's.) But, there's more where that came from…here's what makes these new flavor profiles so unique and brings them together for the perfect bite:
- Jalapeño Popper Chicken Sandwich: A spicy chicken fillet is topped with smooth jalapeño cream cheese, three slices of Applewood smoked bacon, and a warm cheddar cheese sauce. Jalapeño slices, pepper jack cheese and, of course, a premium bun round this out.
- Jalapeño Popper Chicken Salad: A bed of our signature lettuce blend is topped with spicy chicken, Applewood smoked bacon, slices of jalapeños and shredded pepper jack, diced tomatoes, jalapeño ranch dressing and crispy jalapeño cheddar croutons.
Meet this Heat
We can't wait for you to get your hands on these new items. If you like a little heat – this one's for you. Now that you have all the goods, I suggest you head to your closest Wendy's, or get your hands on the salad or sandwich through delivery with Grubhub*. Beginning today, February 18 through February 21, you can try the Jalapeño Popper Chicken Sandwich FREE with a $15 minimum Wendy's order on Grubhub and with a $0 delivery fee. 
And we love to hear your feedback! If you have thoughts on our latest creations Tweet us @Wendys or leave a comment below.
*Limit 1 promotional item per diner. Available while supplies last (expect high demand). Available at participating Wendy's restaurant locations on the Grubhub platform until 02/21/2021 at 11:59 PM local time or while supplies last. Service fees and small order delivery fees may apply and may vary. Limited selection and customization options available for promotional item. To redeem, select promotional item on menu prior to checkout. May be combined with select discounts only. Cannot be combined with cash. Only valid on personal (non-corporate) accounts. Grubhub reserves the right to cancel, suspend and/or modify any aspect of or the entirety of this offer, for any reason at any time, with or without notice, including, without limitation, if any fraud or technical failure impairs the integrity or proper functioning of the offer. Participation is subject to the Grubhub Terms of Use.