Honoring our Veterans
Read time: 1 min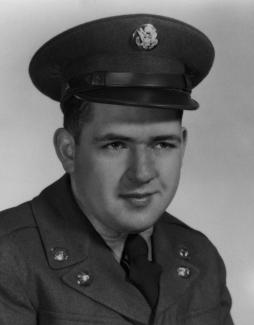 Editor's Note: Chief Concept and Marketing Officer Kurt Kane joined the Wendy's family in 2015.  Kurt openly admits to a life-long love affair with Wendy's hamburgers. In fact, he made a Wendy's restaurant in Colorado Springs his first stop after returning home after being deployed with the 4th Infantry Division where he served as an Air Defense Artillery Officer.  Following his military service, Kurt began his marketing career in the food and beverage industry and eventually made his way to Wendy's. In addition to his marketing responsibilities, Kurt serves on the board for the Dave Thomas Foundation for Adoption.  He holds a B.S. in Management from the United States Military Academy at West Point and an MBA from the University of Texas at Austin. In his spare time, you'll find Kurt playing golf or tennis and spending time with his family. We are proud to share that Kurt recently was awarded with the TOP VET award from Veterans Advantage, a longtime Wendy's partner. Join us in thanking Kurt for his service to our country and welcome him to The Square Deal.  
Liliana and Bry tapped me to draft The Square Deal's Memorial Day post, and I couldn't be more honored.  First and foremost, I'd like to begin by sharing my thanks to anyone who has served or continues to serve our country, and their families.  Your commitment is deeply valued and appreciated more than you could possibly know.  
Most people know Dave Thomas as the guy who created Wendy's® back in 1969.  His plan was simple…make hamburgers people love by doing things the right way.  He then spread the word about Wendy's by appearing in what many people call the most successful (and loved) advertising campaign in history.  Along the way, he also created the Dave Thomas Foundation for Adoption® to help find permanent homes for children in foster care. 
But none of this would have happened had it not been for his service to his country and the lessons he learned during his deployment. 
Yes, in addition to ALL aforementioned acclaim, Dave Thomas, you can also refer to him as Sergeant Thomas, is a veteran.
What a guy…
Dave's Military Journey
Four short years after the end of WWII, the Korean War broke out.  Dave was 18 and realized he'd likely get drafted.  So instead of waiting it out, he joined as a volunteer of the U.S. Army because he hadn't finished high school and he wanted to get an education.  He also figured if he volunteered he'd get his pick of his specialty.
In his book Dave's Way, Dave credits his time in the army as the beginning of a very important relationship with the U.S. Military.  But, given his humble-nature, he didn't oversell his service.  He said,
I'm a proud life-member of the American Legion Post 411 in Dublin, Ohio – although I'm the first to admit that the closest I ever got to battlefield conflict was dirty looks from GIs on the other side of a chow line.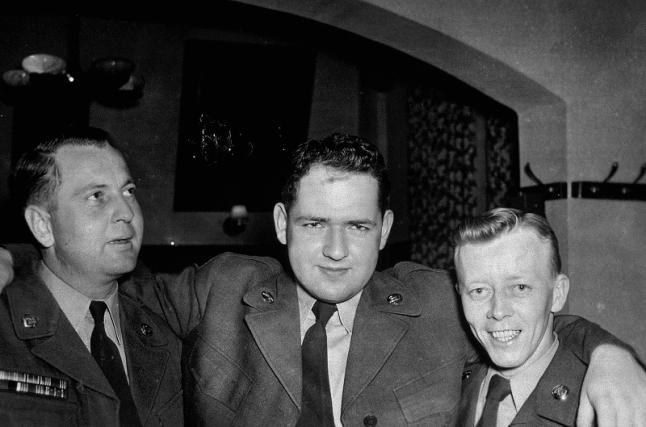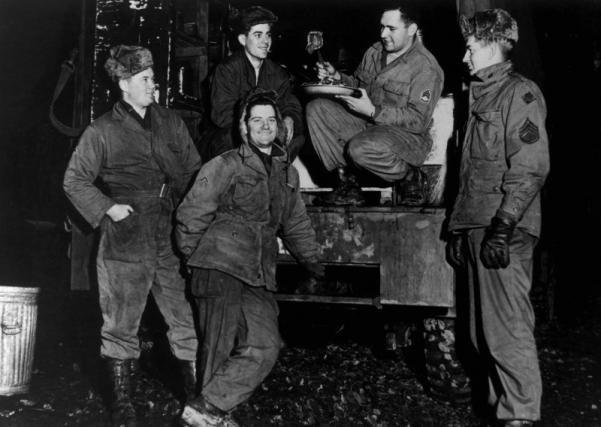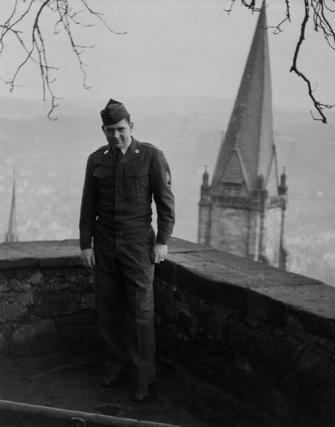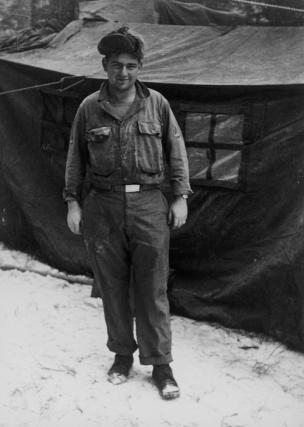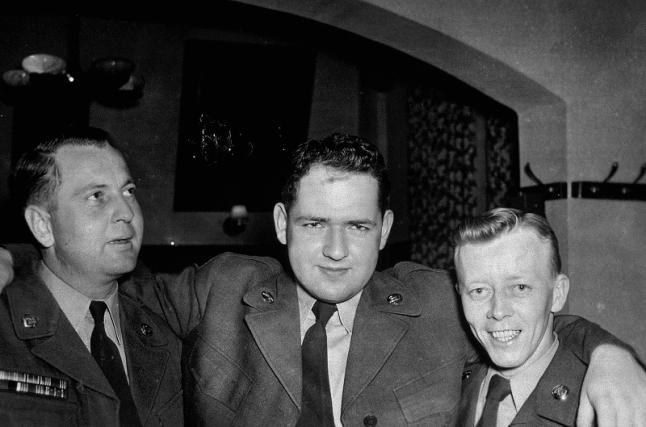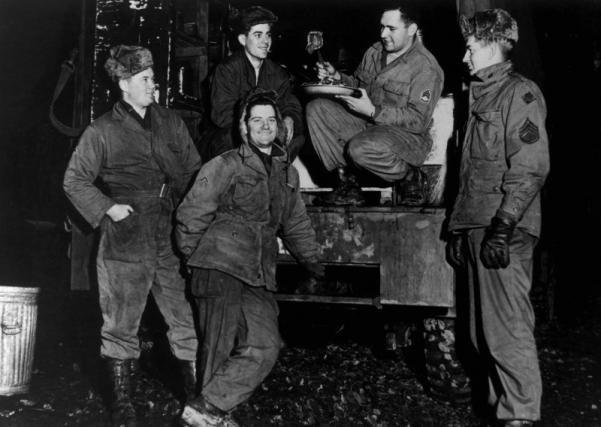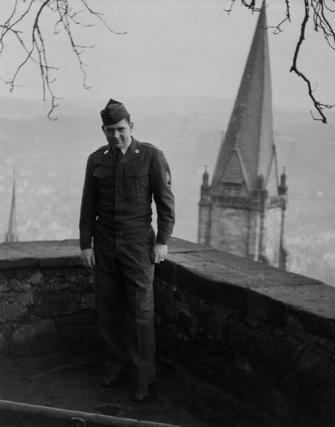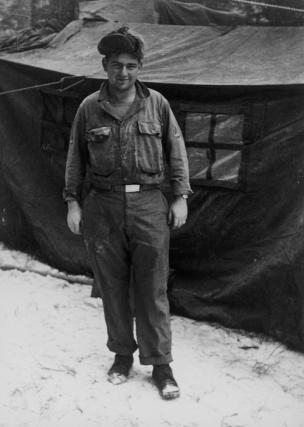 Above: Photos from the Wendy's archive of Dave's military days.
Dave gleaned many important lessons during his time in the Army, but came away with six tips that still hold true today:
DON'T BE AFRAID TO VOLUNTEER
After a root-canal during basic training left him in a holding pattern and bored, he volunteered to work in the mess-hall by sweeping up and clearing tables.  These simple, common-sense acts paved the way for him to be sent to the Army's Cook and Baker's school.
TAKE A LITTLE INITIATIVE
Because of his volunteerism, there was an opening for a Sergeant spot and he got it because of his earlier initiative and his superiors knew he was a hard worker.
MAKE YOUR OWN JOB BIGGER
While he started as a cook in the mess hall when stationed in Germany, he wanted to take on new challenges in this role because the mess hall needed cooking equipment.  He moved into what is best explained as a procurement officer which started with a budget of ZERO DOLLARS. 
MINE THE "GOLD" OUT OF THE GARBAGE
Dave realized he could work with other departments on his base to do trades.  He did what he had to do in order to produce quality, hot-meals for his brothers in the military.
FIND WAYS TO BE AN ENTREPRENEUR
He didn't think of his role as a "lowly mess sergeant." He elevated his role and viewed himself as an entrepreneur.  He took risks in his job because he knew the reward would be sweeter.  He recognized rules but also saw rules conflicted with one another and thought further about how to get around rules.  He grew his "company" yet respected the organization and the people in it.
HELP IMPROVE MORALE
Recognizing that he could probably garner more respect from his fellow servicemen and their appreciation of their meals if the "dingy" mess hall had a little coat of paint, he did it. But first he petitioned and lobbied for some time until his request was granted.   The paint arrived in a big truck filled with 500-gallons of it.  He had the mess-hall "singing" and the appreciation from his troops (still receiving the same food) was incredibly positive.  
Today we continue to honor Dave and our military veterans by supporting them in a variety of aspects. 
The Wendy's Military Support Network
This year we started the Wendy's Military Support Network (WMSN), a group whose mission centers on developing and supporting military veterans and military family members within our organization, as well as upholding our company value of "Giving Back" to those who serve and their families in our local communities.  
Through group meetings and events, our WMSN group also provides a unique opportunity for camaraderie among our veteran employees and an opportunity to share career experiences, build cross-functional partnerships and friendships, and support one another.  Beyond this, what makes WMSN extra special is that the group is open to all employees and includes military spouses, parents, siblings, and others who are simply patriots supporting the group mission and one another.   
At the restaurant and consumer-level we also partner with the team from Veterans Advantage, a veteran-founded public benefit corporation, to provide Veterans Advantage members exclusive WendyMail offers throughout the year at Wendy's restaurants nationwide. Through WendyMail, Veterans Advantage members enrolled in VetRewards are eligible to receive our exclusive offers for patriotic holidays, including Memorial Day, Flag Day, Independence Day, Patriot Day and Veterans Day.
Franchisees Support The Vets
And the patriotism of our franchisees is alive throughout our system.  These business-owners honor heroes in their hometowns with Frosty Key Tag fundraisers to benefit military families, they host community nights at their restaurants in support of troops and their families, and some franchisees offer the space and community of their restaurants. 
In fact, LA-area based franchisee Ron Ross was recently recognized by the Los Angeles Daily News on the 14th anniversary of hosting the group, "Wings Over Wendy's."
The original small group asked Ron if they could use his restaurant to gather and talk about their time in WWII and/or the Korean War and also to "shoot-the-breeze."  Ron agreed because he liked them and he also offered them discounts.  The small group grew to 15, then 20, then 30 and soon Ron started opening his restaurant for breakfast to accommodate the group – which far surpassed his lunch-crowd. 
Today, "Wings over Wendy's" gathers more than 150 veterans from WWII and the Korean War who are just looking to trade some stories and laughs from their time in the service.   
Ron, thank you and our many franchisees like you who honor military veterans who've served and continue to serve our country. 
Thank You, Veterans
On this Memorial Day, we think it is important to take a step back and appreciate the sacrifices of so many that have made it possible for all of us to pursue our dreams.  When I think of people I know who have lost their lives in the service of our country, all I can do is pause, reflect, and give thanks. 
While it's never enough, together we can all make sure they are never forgotten.  We continue to pay respect to their sacrifice by being the very best we can be at what we do every single day.  That's what we try to do at Wendy's, and I hope you will join us in that pursuit.
Thanks and Happy Memorial Day,
Kurt