How a Picture Helped One Family Discover a Greater Connection to Wendy's
Read time: 1 min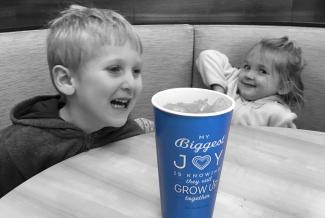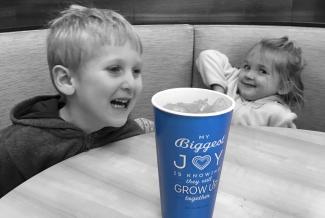 Every so often, we receive phone calls and emails from Wendy's customers who can personally relate to our brand's signature charitable cause: foster care adoption. While we love creating personal connections with all Wendy's fans, it's extra special when someone has a positive personal connection to the charitable work we do to support the Dave Thomas Foundation for Adoption® and their Wendy's Wonderful Kids® program.
Last Friday, I received an email from Ted and Tara Cox of Wylie, Texas. Ted and Tara have been foster care advocates for years, and they also recently adopted their two young (and adorable!) grandchildren. Their email put a smile on my face and made me grateful for the work we're doing at Wendy's to help find forever homes for children in foster care.
Here's what Ted and Tara shared with us:
Dear Wendy's—
My wife and I are in our late 50's and have fostered children for several years through a local Dallas organization, Upbring. Unfortunately, while we were fostering, Child Protective Services intervened with our daughter and placed our two grandchildren into our care. We recently celebrated the one-year anniversary of their adoption and everything is going great -- both kids are well-adjusted, normal, and very happy.
While we are grateful for all the help and support Upbring gave us, we didn't realize how much Wendy's has also done for foster families.
We took a random picture (believe it or not!) while we were at one of your restaurants in Wylie, Texas. I never noticed what was written on the cup in front of the kids until I started cleaning up the picture. We didn't realize Wendy's supported foster care adoption until that moment and after doing a little research.
The writing on the cup has a special meaning to us and is the story behind why we adopted our grandchildren. This is our favorite picture and I thought I'd share it with you.
There are probably many grandparents like us who are new parents again, but everyone needs to know there can still be a happy ending. We learned so much from our foster care training and most people just don't know how badly kids need safe, happy homes.
Wendy's is special to us because of what Dave Thomas did to promote adoption. We believe there aren't many things more noble than helping kids in need.
Thanks again for everything Wendy's does for the kids in Dallas and all over the United States! We have a special perspective of appreciation for what Wendy's is doing.
Sincerely,
Ted and Tara Cox