How To Get A Wendy's Frosty Key Tag
Get Free Frosty Treats For A Good Cause
Read time: 1 min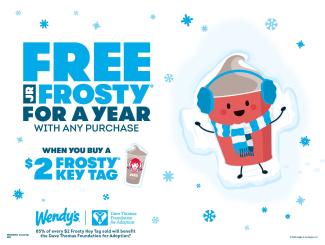 Families are at the heart of Wendy's® – and the causes we support. During this "Season of Giving," we  welcome back the fan-favorite Frosty Key Tag fundraising program, which supports our commitment to help find forever families for children in foster care through the Dave Thomas Foundation for Adoption®.
Wendy's 2022 Frosty® Key Tags
Put your love for the Wendy's Frosty toward a good cause! From now through January 29, 2023, Frosty fans can purchase Wendy's Frosty Key Tags for just $2, with proceeds supporting the Foundation.*
As one of Wendy's national cause-marketing fundraising campaigns, when you purchase a tag for $2, you unlock a FREE Jr. Frosty with any purchase for an entire year. It's the gift that keeps giving!
If purchasing your digital Key Tag directly in the Wendy's mobile app, you'll immediately receive the Key Tag in the form of a daily mobile offer that can be applied to mobile orders or added to your Wendy's Rewards card for in-restaurant scanning.** You can also purchase a physical Frosty Key Tag in restaurants, which can still be added to your go-to mobile order!
Here are a few ideas to treat the people in your life with a Frosty Key Tag during this wonderful time of year:
Gift the Perfect Stocking Stuffer
Delight your loved ones with a sweet surprise in their stocking this year! Frosty Key Tags are the perfect gift for the holiday season and keeps on giving with free Jr. Frosty treats all year long.
Treat a Co-Worker to a Tasty Treat
Do you have an awesome co-worker who deserves to be recognized for all their outstanding contributions? Send them a Frosty Key Tag! By paying it forward, you'll have some 'team-bonding' time (a.k.a. an excuse to take a quick lunch break at Wendy's).
Surprise a Caring Neighbor with a Gift
If you have a neighbor who is always available to house sit when you're out of town, thank them with a Frosty Key Tag. Not only will they be treated to free Jr. Frosty treats throughout the year, but you'll have a go-to friend to pick up the mail and let out your dog for the foreseeable future.
Reward Well-Deserving Students with a Surprise
Surprise the marvelous student in your life with a Frosty Key Tag. With the end of the semester just on the horizon, it's an excellent way to recognize their hard work before the holiday break.
Supporting Foster Care Adoption
In 1992, Wendy's founder Dave Thomas, who was adopted himself, gave adoption a national platform by creating the Dave Thomas Foundation for Adoption. Its mission is to dramatically increase the number of adoptions of children waiting in North America's foster care systems.
Through its national awareness campaigns and innovative programs, including Wendy's Wonderful Kids®, the Foundation is dedicated to achieving the vision that every child will have a permanent home and a loving family. Through Wendy's Wonderful Kids, the Foundation supports the hiring of adoption professionals, known as recruiters, who are dedicated to serving children who have been in foster care the longest. This includes teenagers, children with special needs and siblings. Wendy's Wonderful Kids recruiters work with smaller caseloads of 12-15 children to ensure that each child receives the time, resources and support they deserve. To date, nearly 13,000 children in the United States and Canada have been adopted through the program.
After spending their entire young lives in foster care, siblings Niyah and Elias were adopted by Kameca and Jamar through the Foundation's Wendy's Wonderful Kids program. Watch more of their incredible story that involves teamwork and growth:
*At participating U.S. locations. One free Jr. Frosty per visit with any purchase. Not valid for use within combo or with any other offer. Not valid on third-party delivery platforms. 85 percent of every $2 Frosty Key Tag sold from 11/1/2022 to 1/29/2023 will benefit the Dave Thomas Foundation for Adoption. Key Tags valid from 1/1/2023 – 12/31/2023.
**Wendy's app download and account registration required to purchase and redeem the digital Frosty Key Tag through the Wendy's app. Digital Frosty Key Tag will be automatically added to user's account immediately upon purchase. Only valid for one Jr. Frosty per day with any purchase until 12/31/2023. Not valid for use within combo or with other offers. See the Wendy's app for further details.