How Wendy's Canada Is Growing Lettuce with Love
The #GrownWithLove campaign encourages Canadians to help grow great tasting lettuce.
Read time: 1 min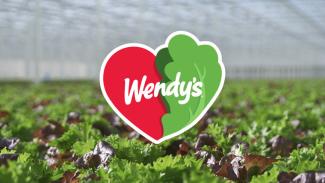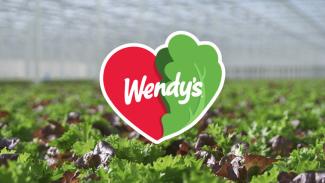 People say that plants (and in our case, lettuce) grow better when shown a bit of love, which is why Wendy's® Canada is launching its #GrownWithLove campaign. Through this campaign, we're giving Canadian customers a chance to help grow great tasting (and extra loved) greenhouse-grown lettuce!
Show Your Support Using #GrownWithLove
Wendy's customers can cheer on our lettuce and show some love for Wendy's salads by using #GrownWithLove in a tweet, which will then be read out loud to the growing lettuce by a team member from Whole Leaf®, our supplier partner. Tomorrow, July 29, Wendy's customers can check out a livestream to see the lettuce flourish first-hand (and our fans around the world can watch, too!). Just tune in on Wendy's Canada Twitter beginning at 6 p.m. EST to hear first-hand what words make lettuce grow.
And if you're in Canada, visit your local Wendy's in August and order one of our freshly made salads for a taste of the greenhouse-grown salad blend that will be certifiably #GrownWithLove.
Did You Say Greenhouse-Grown?
That's right. We know Wendy's customers care about quality, freshness, food safety and sustainability. As part of our ongoing commitment to serving the best and most fresh, we're expanding our greenhouse-grown fresh produce portfolio by introducing 100% Canadian greenhouse-grown lettuce in our salads and sandwiches throughout Canada. In fact, Wendy's is the first national brand in the Canadian QSR industry to serve greenhouse-grown lettuce in every restaurant across the country. This new lettuce lineup not only tastes great, but is also grown with zero pesticides and makes more efficient use of water than field-grown lettuce, among other benefits.
You might remember that in 2018, we announced our Fresh Produce Initiative and committed to sourcing 100% vine-ripened tomatoes for our North American restaurants exclusively from greenhouse farms. Greenhouses provide beneficial indoor work environments, make more efficient use of water and fertilizer, eliminate runoff and use Integrated Pest Management (IPM) methods such as beneficial insects like ladybugs.
Our greenhouse-grown lettuce is the latest of Wendy's many commitments under our updated corporate social responsibility platform, Good Done Right. We're all about serving up better food while reducing our environmental footprint, doing right by our people and bringing you along on our journey.
Munch on Some Mindfulness
Craving that fresh and flavorful tomato or crispy and crunchy lettuce now? Us too. Luckily, we have the fresh produce on-hand for that craving to be satisfied – and We Got You™. Visit a Wendy's near you to get your next quality meal.
Whole Leaf is a registered trademark of Star Produce Ltd.
* According to water consumption measurements conducted at Whole Leaf