Our New CSR Platform
Learn more about Wendy's corporate social responsibility principles with the release of their 2019 report.
Read time: 1 min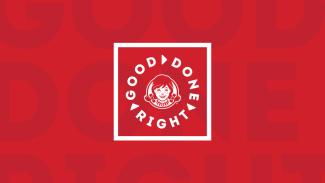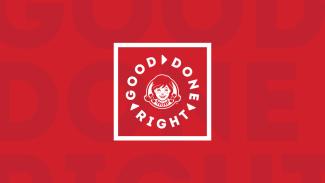 2019 was a busy and exciting year at Wendy's®. We celebrated the brand's 50th anniversary and announced our plans for accelerating growth that includes a national U.S. breakfast launch, digital technology enhancements and global expansion. I'm proud of the entire Wendy's family and what we've accomplished.
As we embark on the next 50 years, we remain committed to the values that Dave Thomas taught us, and we believe that doing the right thing – for our people, our customers and our planet – is the only responsible way to do business. To better communicate our commitments and to drive our efforts moving forward, we're bringing our ongoing corporate social responsibility efforts under one united banner: Good Done Right.
Good Done Right reflects our values through strategic, comprehensive action. While it's a seemingly simple phrase, Good Done Right covers a great deal of work across the areas of our Food, People and Footprint:
Food
Wendy's was founded on the premise that Quality Is Our Recipe. The quality our customers expect from every restaurant visit begins long before products and ingredients reach the kitchen. With our food vision as our guidepost, Good Done Right means we are serious about providing fresh food that is high quality, safe, traceable and from responsible sources.
In 2001, Wendy's established our industry-leading Animal Welfare Council because we believe we have a responsibility to support proper care for the animals in our supply chain. I'm excited to share that in 2020, we plan to enhance our animal welfare initiatives by launching the Animal Care Standards Program, a detailed assessment tool for beef, pork, chicken and eggs that is designed to recognize progressive suppliers and to help us better trace conditions, quantify our best practices and inform development of new ones. With Good Done Right as our guidepost, we now have a five-year roadmap in place to have comprehensive accounting of animal welfare and animal care best practices in our supply chain.
People
At Wendy's, we're a family, and we value everyone involved in our business – franchisees, team members, suppliers, shareholders and other partners. We believe that treating people with respect and giving back to the communities where we operate is a central part of our business. As our system continues to grow, we want Wendy's to continue to be a great place to eat and a great place to work.
At the Company level, we have a continued focus on diversity and inclusion. We engage employees through our Employee Networks which cover a variety of affinity groups, including women, LGBTQ+ employees, people of color, young professionals and military veterans and families. Each of these networks is sponsored by a member of my executive leadership team and serves as a resource to the business, as well as a platform for learning, development and leadership experience for the employees who are involved.
As of January 2020, Wendy's achieved a perfect score of 100 on the Human Rights Campaign's Corporate Equality Index and the designation as a Best Place to Work for LGBTQ Equality. This survey is the nation's premier benchmarking survey and report measuring corporate policies and practices related to LGBTQ+ workplace equality.
At the leadership level, we have steadily increased the representation of women and people of color in our organization, with a focus on the corporate director and above level. And through our participation in the McKinsey "Women in the Workplace" study, we learned that a key obstacle for women at Wendy's and throughout the business community is finding the opportunity to take on a first-level management role, which is a critical first rung on the ladder of future career development. Based on this research, I'm happy to share that in 2019, we piloted the Wendy's Women's Leadership Program to help grow and develop the future female leaders of Wendy's. Twenty women from Company restaurants and our Restaurant Support Center participated in this year-long program to develop skills like leadership development, executive presence and managing through change. I can't wait to see what these women will continue to accomplish in their careers at Wendy's and beyond.
Footprint
We know our restaurant operations and the environment are closely linked, and we continually strive to be good stewards by working with our suppliers to purchase products and services with a view toward reducing our impact on the environment. We're supporting sustainability and our environmental footprint the same way we approach our hamburgers: without cutting corners.
In 2019, we launched our approach to sustainability, called Squarely Sustainable™. Through Squarely Sustainable, we aim to use less and reduce materials, use better materials where possible, spark action that can drive change and engage our partners to find solutions on important issues. These goals are supported by Good Done Right and we plan to put them into action with efforts focused on sustainable approaches to water use and conservation, food waste and packaging design.
We also created the Squarely Sustainable Supplier of the Year Award, which recognizes a Wendy's supplier for doing business in a responsible way. Our 2019 winner, Cargill, supplies our restaurants with products like beef and cooking oil. Cargill's packaging system for its cooking oil saves about 390 tons of plastic a year, reclaiming 696,000 additional pounds of waste oil annually. With forward-thinking suppliers leading the way, I can't wait to see where our Squarely Sustainable journey takes us in 2020.
 You can read more about Good Done Right and the initiatives we have underway in our CSR Report. We hope you'll take a look and join in our excitement for all we've accomplished in 2019 – and all we have our sights set on for 2020 and beyond.