What Diversity & Inclusion Means to Wendy's
How We Support Our Diverse Community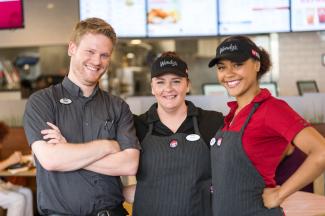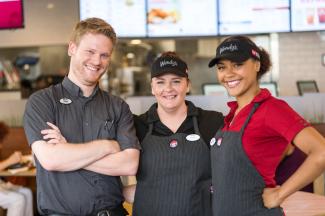 The Wendy's family is comprised of a vibrant, diverse community across the globe – and our hope for all of the members of our Wendy's family is that they will have the opportunity to  achieve their full potential, both professionally and personally. We believe that reflecting the diversity of our consumers and communities will help us continue to thrive as an organization, and we shared an update earlier this year about Wendy's evolving diversity, equity and inclusion (DE&I) strategy.
To best support these efforts, Wendy's has six Employee Resource Groups (ERG) for Company employees that support our DE&I journey. Each ERG has a senior leader as the executive sponsor and these groups help us celebrate Wendy's core values and contribute to the betterment of our brand and our people. These volunteer resource groups not only enable members to learn, share and network, but also serve as a resource to the business. And while these resource groups were originated at our Dublin Restaurant Support Center, remote work has expanded participation to Company field-based employees, providing more opportunities for Wendy's employees to learn, grow and find ways to bring their full, authentic selves to work.
While each ERG has a different focus, they all are dedicated to the development of their members and ensuring their voices are heard when it comes to decisions that affect Company employees, such as benefit enhancements, creating connections among likeminded Wendy's employees, and engaging with the local community.
Wendy's employee resource groups include the following:
- Women of Wendy's (WOW): Committed to enabling women to be their best selves with the goal of supporting development and leadership of women at the Company, WOW is composed of several committees. Through these committees, WOW helps women develop their professional skills, connect with other women in the field and acts as a resource to support women as they move ahead both personally and professionally.
- Wendy's Equality Resource Group (WeQual): Grounded in the mission to promote an accepting, diverse and respectful work environment, WeQual is focused on creating a supportive environment for Wendy's LGBTQ+ employees, team members, their allies and the community at-large. WeQual hosts a series of signature events, including participating in PRIDE and GLAAD Spirit Day, and also facilitates series like "No Judgement Coffee Hours" and "Living Room Conversations" where employees can connect with likeminded colleagues.
- Wendy's Young Professional Resource Group (WenGen): Formed to connect the next generation of Wendy's leaders through personal and professional development, community outreach and social events, WenGen is at the center of helping develop the next generation of leaders. WenGen is also focused on providing networking and professional development opportunities to their members.
- Wendy's Veterans Resource Group (WeVets): WeVets supports transitioning military talent by providing development opportunities to its members, fostering a veteran and military family community at Wendy's, and upholding the company value Give Something Back to those who serve. From opportunities to talk with colleagues over virtual coffee chats and discuss topics like Veteran's Administration Benefits to training opportunities, the group supports those who have served by showing up for them when they need it.
- Wendy's Black Employee Resource Group (WeBERG): WeBERG's mission is to provide growth opportunities for Black employees and empower diverse perspectives that can help shape the brand. WeBERG strives to enhance communication on relevant topics such as racial injustice, elevate cultural awareness, foster an inclusive  culture, and support growth and development for Black employees.
- Wendy's Cultural Diversity Resource Group: Diversity makes us stronger, and our Cultural Diversity Resource Group serves as an authentic community for employees to showcase themselves and their unique backgrounds. Through celebrating our individual heritage and having conversations that ground and share culture, the group seeks to support employees and team members by connecting, learning and growing together.
Diversity, Equity and Inclusion Efforts Extend Beyond our Wendy's Walls
In 2019, Wendy's announced a partnership with the Thurgood Marshall College Fund®, which has now expanded, to support educational and career opportunities for Black students throughout the United States. In Columbus, Wendy's is partnering with the YWCA of Columbus® and the Columbus Urban League® to help advance their missions of combatting racism and leveling the playing field of racial inequality.
Most recently, we announced a new community-based giving program, which supports the commitment we made in June to donate at least $500,000 to support social justice, youth and education in the Black community. Wendy's Company field-based employees were eligible to apply for charitable grants on behalf of local charitable organizations, with a total grant pool of $100,000 available in 2020. An internal committee of Wendy's Company employees reviewed the applications and selected 23 organizations to receive grants in 2020.
In 2021, we look forward to combining this program with our existing Community Ambassador Grant Program. The power of bringing the two together will help amplify Wendy's support in the communities where we operate.
As we learn and grow, you can check back here for more on our journey.