Wendy's 50th Anniversary Limited-Edition Birthday Cake Frosty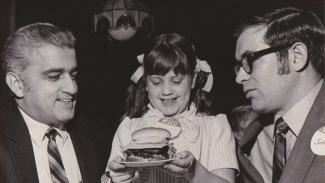 On November 15, 1969, the world was forever changed when Dave Thomas founded Wendy's® Old-Fashioned Hamburgers® in Columbus, Ohio. What started as one restaurant now spans the globe with more than 6,700 locations.
But Wendy's stands for more than just hamburgers.
We're a company dedicated to Fast Food Done Right. Your go-to for real, fresh, craveable, forward-leaning food that doesn't cost a fortune.
It's in that same spirit that we are releasing a limited-edition flavor of our iconic, legendary Frosty®, a product that has been on our menu since our beginning and, in a typical year, will sell more than 300 million Frosty treats!
So, in honor of our 50th, celebrate with us by enjoying a Birthday Cake Frosty Cookie Sundae. In restaurants for a limited time, the sweet celebratory treat starts with our creamy vanilla Frosty mixed with the flavor of classic birthday cake then is topped with sugar cookie pieces and sprinkles. It's a birthday party in a cup (no off-tune singing or party hat required)! 
Since day one, Wendy's has made real food for real people – food we're proud to enjoy with our own family and friends. We start with high-quality ingredients and prepare them made to order. Our chefs combine familiar flavors with fresh twists to make food that's "gotta-have-it-now" delicious. We track and apply food trends at the right time in the right way, and we build in value where it matters, so you can count on food you love at a price you feel good about.
This mindset has been with us since Dave Thomas opened the first doors in 1969, and we're confident it'll stay with us for the next 50 years – and even beyond.
We're also a company that is incredibly passionate about one single cause, the Dave Thomas Foundation for Adoption® (DTFA), which Dave Thomas founded in 1992. The DTFA relentlessly focuses on raising funds for the hundreds of thousands of children waiting in the North American foster care system, and we're proud to partner with them to help find a permanent, loving home for every child in foster care.
The heritage and culture that we've built these past 50 years is one we look back on with fondness and pride. Check out the highlight reel of our past 50 years or take a spin through the below fun facts about Wendy's.
Thanks for celebrating with us!
FUN FACTS ABOUT WENDY'S
When and where did the first Wendy's restaurant open its doors?
The first Wendy's opened on November 15, 1969 in downtown Columbus, Ohio.
What were the five original products on Wendy's menu?
Hamburgers, Chili, Frosty®, French fries and soft drinks
What was the price for a Single?  A Frosty?  Chili?
Single was 55¢.  Frosty was 35¢.  Chili was 55¢.
What was the theme of Wendy's first national advertising campaign?
"Hot 'n Juicy"
In which commercial advertising campaign did Wendy's Founder Dave Thomas make his first appearance?
Dave Thomas first stint as a commercial spokesman came in the campaign, "Ain't No Reason To Go Anywhere Else."  He later appeared in more than 800 commercials over 13 years.
Is there really a "Wendy"?
Yes! Wendy is Dave and Lorraine Thomas' middle daughter.  Her given name is Melinda, which became "Wendy" when her siblings couldn't pronounce her given name. She was eight years old when she modeled for the restaurant sign. Today, she's a mom and a successful businesswoman who, with her siblings, own and operate a Wendy's franchise.
Who was the octogenarian who was the star in the famous "Where's The Beef®?" commercial?
Clara Peller starred in the commercials and was a manicurist for many years.  The other two ladies who appeared with Clara were Mildred Lane and Elizabeth Shaw.
Why are Wendy's hamburgers square?
Dave Thomas used to say, "At Wendy's, we never cut corners."  That's true … but you can lay more square patties on a grill than round ones and when the corners of the patty hang over the edge of the bun, you can see how big the patty is.