Wall Street to Main Street: A Wendy's Franchise Grows
How a Wendy's Franchise Came Together and Grew Far from Home
Read time: 1 min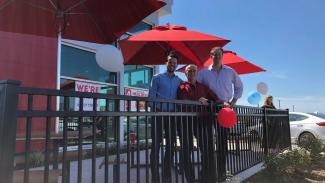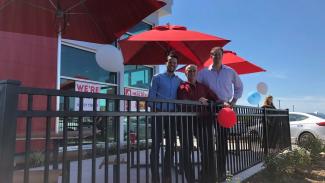 Picture 5th Ave. in New York.
(Got it…?)
Okay, now picture 15th Ave. in Ardmore, Oklahoma.
(Ready…?)
Where would you expect to find two Wall Street investment bankers in the primes of their careers?
That's correct: chowing down on Spicy Asiago Ranch Chicken Club sandwiches and Dave's Doubles® at the Wendy's® restaurant they recently built in a tiny southern Oklahoma town.
Meet Nick Rhoads and Nate Hamilton
In 2016, Nick and Nate left high-flying careers at the center of the financial universe to form Heritage Partners Group and, thus, start the process of joining the Wendy's family as franchisees.
After 18 months of tireless due diligence, enabled primarily by their deep business and market research experience, Nick and Nate celebrated the grand opening of their Wendy's on 15th Ave. in Ardmore this past August – their first new-build as franchisees.
And it all begs the question: why?
"Our desire to do this harkens back to Nick's father working in the Quick Serve Restaurant industry and my mother's experience starting her own business," Nate says. "Both of our backgrounds played into our desire to build something together, which is why the name of our holding company became Heritage."
"We both worked in the financial industry for a decade and we always had an entrepreneurial itch to build something together for the long-term," Nick says. "The Wendy's brand has been around for almost 50 years and is still the hallmark of quality in the industry. We spoke to many brands in franchising, but Wendy's really stood out and was differentiated by the quality of its food and the value system that aligns with ours."
With their decision to partner with Wendy's solidified, Nick and Nate needed an experienced operating partner. A person who could tell them how things really work. A person who, even better, spent a large chunk of his management career with Wendy's.
A person like Glen Brandenburg.
How to Open a Wendy's Franchise: The Missing Link
"I wanted to get back into a role where I could have direct impact on front-line teams and customer service," says Glen, who worked 15 years on the corporate side of Wendy's operations before taking a brief hiatus in 2016.
"The thing that hit home for me was my very first conversation on the phone with Nick and Nate," Glen recalls. "It was clear they already embraced the Wendy's values and culture. A few weeks later, I drove up to New York from Philadelphia and we met for dinner and it crystalized to me that this was the perfect chance to get back into the system."
Glen now serves as President of Stonewall Road Restaurant Group, which is owned by Heritage. With Glen at the helm, Stonewall Road acquired 19 existing Wendy's restaurants before it built the Ardmore location.
Three new restaurants have already broken ground in North Texas.
A Wendy's Franchise Grows in Texas
"North Texas is one of the fastest growing markets in America in terms of population growth, gross domestic product and real estate," Nate says. "We have a lot of long-term confidence that Texas will be a thriving metro for decades to come."
In fact, the booming growth throughout Texas encouraged the team to get started on building new restaurants early, and the team has scheduled 10 new restaurant builds for 2019 in the state.
A significant reason why Stonewall Road was able to get its business off and running was the support they received from Wendy's corporate team.
"The biggest challenge coming into this was site selection," Glen says. "We didn't have deep backgrounds in construction and development, and those are things you can't really afford to get wrong. One of the most positive aspects of this process has been the support we've received from Wendy's to drive the process from breaking ground to opening the doors."
The Real Benefit of Opening a Wendy's Franchise
Our Founder, Dave Thomas, was happiest when he could help someone else succeed.
Stonewall Road was founded on that philosophy as well.
"For me, the most fun part is to give people in the North Texas region a chance to turn a job into a career," Glen says. "And not only that, to build a special career and be part of our family."
Nick, Nate and Glen all agree they're looking most forward to bringing Stonewall Road's mission statement to life, to serve as true partners to Wendy's, its management team and its Stonewall Road team members.
And, of course, its customers.
"Food is something that brings people together and Wendy's, in particular, is something that brings people together," Nick says. "At the end of the day, it's all about employees and customers and building a great team – and rewarding that team for the exceptional experience they'll provide to our customers."
Wendy's has opportunities for new franchisees and new unit growth worldwide. Wondering how to become a Wendy's franchise? Click here to learn more, visit our FAQ page, or contact us directly at Wendys.Franchising@wendys.com