How Wendy's Supports LGBTQ+ Allyship
See how Wendy's is celebrating Spirit Day this year and being an ally to the LGBTQ+ community
Read time: 1 min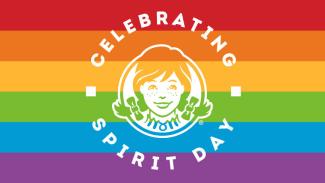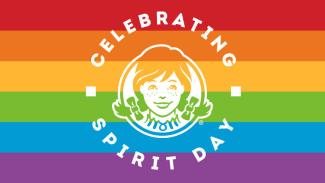 One of Wendy's® core values is Treat People with Respect. While we live this value every day in our support of employees and customers, it rings especially true on Spirit Day. Members of the LGBTQ+ community often face increased bullying because of their identities, and each year on October 15, GLAAD® asks that people pledge to "go purple" and sign their anti-bullying pledge to show solidarity.
Wendy's has celebrated Spirit Day for a few years now and what started as a day to take a stand against the bullying of LGBTQ+ youth has evolved. We're proud of our allyship as we celebrate Spirit Day in 2020.
LGBTQ+ Allyship on Spirit Day 2020
In years past, we've celebrated Sprit Day together as a team, but this year we look forward to celebrating together from home. We're proud to partner with our internal Wendy's Equality Employee Resource Group (ERG), WeQual, to virtually bring people together in some new ways, including encouraging employees to listen in on the Stand As One panel, hosted by Coca-Cola®, which is an opportunity to hear from those in the LGBTQ+ community and have conversations on actions they can take to make a difference.
Because allyship is personal as well, we also asked some of our Wendy's leaders and employees what being an ally means to them:
What does LGBTQ+ allyship mean to you?
Liliana Esposito, Chief Communications Officer: Allyship means celebrating the contributions that LGBTQ+ people make to our world and standing up and speaking up for equal rights, treatment and respect for people who identify as LGBTQ+. It also means giving voice to the fact that while strides have been made, the rights and protections of the LGBTQ+ community are still legally fragile in many areas. An ally advocates for fairness and equality in all aspects of life, including work, family, and healthcare.
Abigail Pringle, President, International & Chief Development Officer: LGBTQ+ allyship has a lot of meaning to me as it is not just the right thing to do, but it is personal as it reflects my life of relationships with people I care for greatly. I am an ally for my cousin John who is a gay man; my high school friend Trish who is a lesbian; my college friend Christy who I have seen go through challenging and amazing times as a parent with a son, William, who transitioned to become Lia, a girl; my friend Lisa whose dad shared he was gay after being married to her mom for 40 years, and my many work colleagues who have helped me be a better leader by sharing their life journeys as part of the LGBTQ+ community. All of these experiences shape who you are, and for me, it has made me an ardent supporter and ally so that people can be embraced for what makes them special no matter who they are or who they love.
Melanie Trudell, Director, Enterprise Technology Product Management: I have a great deal of passion around bringing your whole self to work. As an ally, I do my best to ensure all employees have that opportunity. In addition, as an ally and leader in WeQual, I work to ensure the voice of our LBGTQ+ employees are heard.    
Steven Derwoed, Vice President, Global Design & Construction: To me, allyship is one of the strongest and most effective ways to support the LGBTQ+ community. Allies help create a platform to speak out against homophobia and personally stand for equitable treatment for all people regardless of their sexual orientation. 
John Li, Vice President, Culinary Innovation: Allyship to me is part of our natural DNA to behave and act in ways that match Wendy's brand value Do The Right Thing. In the case of the LGTBQ+ community, this means showing unconditional support. It also means acknowledging that even in today's environment, there exists an unequal playing field and tolerance which should make any empathetic human being feel sad and angry that we have not come far enough.
Darcy Kenitzer, Senior Paralegal: For me, using my privilege as a cisgender (someone whose identity aligns with their assigned gender at birth) straight person to amplify and support LGBTQ+ communities is my focus as an ally. It means being a friend, a student, an educator, and a moderator. In my effort to be an ally, I ask myself how the script would be flipped if I were a member of the LGBTQ+ community, and influence however I can to ensure experiences are the same for LGBTQ+ and cisgender folks.
Mathilda Tuuli, Senior Specialist, Diversity and Inclusion & Campus Recruitment: Allyship is about joining a support network to say I see you, I hear you, and I stand in solidarity. It is about joining in celebrating authenticity. Historically, allyship has brought real change, and we should all want to be part of that. On Spirit Day, I stand against bullying of LGBTQ+ youth and I say your lives matter!
How are you, and how can others, be an ally to the LGBTQ+ community?
Todd Penegor, President & CEO: It starts with being a champion of Diversity, Equity and Inclusion at Wendy's and being a strong advocate for setting the culture and the tone at the top to ensure everyone feels like they can be their best selves at Wendy's. As a straight, white male, I need to keep my privilege front and center as I talk to others who identify as LGBTQ+. The key for me is to constantly check my assumptions and then believe in the power of community to help us all affect change. 
Coley O'Brien, Chief People Officer: For me, it starts with seeking to understand and continuing to educate myself on important areas of focus within the LGBTQ+ community and how it continues to evolve. I also initiate active discussions with my kids about what they can do to be allies to others who identify as LGBTQ+.
Melanie Trudell: First, show up! There is so much value in your presence. Employee Resource Groups like WeQual offer opportunities throughout the year to get involved. Next, just listen. I can't emphasize enough the importance of listening to our LBGTQ+ employees to understand their unique experiences. And finally, share what you learn! Take back the knowledge to your team and colleagues. A critical part of allyship is being that voice when others are not there to share theirs.
John Li: As a leader in the Wendy's organization, I have a responsibility to live, act and model our values. I also have to use my position to influence our organization's culture and make sure our teams reflect our diverse customer base. I realize this is no small task, but even in my small world of Culinary Innovation, I feel like I can make a small difference. Change does not always have to start with a revolution, but sometimes from a culmination of lots of small acts by many.
Blaire Luciano, Manager, Public Affairs: Speak up! Don't shy away from seizing an opportunity to respectfully educate others, even if it feels uncomfortable. Things that seem small, like reminding someone about using preferred pronouns or calling someone out on their use of LGBTQ+ related slurs, can encourage someone to work on their cultural competence. In my family, we're also taking proactive efforts to teach our children about love and acceptance. They're still very young, but we work to expose them to families that look different than ours and openly discuss what it means to identify as LGBTQ+.
Darcy Kenitzer: It's helpful to think of being an ally as a verb and not as a title. Being an ally is supporting and amplifying LGBTQ+ voices. Take responsibility for your own education on issues of concern to LGBTQ+ communities and stand up when you witness behavior or rhetoric that goes against LGBTQ+ people and initiatives. On a more personal level, do what you can to cultivate inclusivity within your own circles. For example, announce your preferred pronouns when introducing yourself so that someone whose preferred pronouns are not the same as their assigned gender feels more comfortable informing others of their preferences.
How can employees be LGBTQ+ allies at work, even if working remotely?
Todd Penegor: Be available, be supportive and have the courage to reach out to others for support or counsel if you are looking for some healthy dialogue. The more we listen and the more we discuss, the more we learn about one another. This allows us all to better support and ensure we are creating a special environment at Wendy's where all of us can thrive.
Coley O'Brien: Be explicit and let people know you're an ally. One of the ways I demonstrated this earlier this year was to add (he/him) pronouns in my official email signature. 
Liliana Esposito: You can make it known that you are a safe space for others by showing, rather than talking, about your support. Make sure that your remote presence shows allyship. Adding your gender pronouns to your email, and using them when you meet someone new; using language that makes it clear that you recognize and welcome the value and equality of people of all gender identities, expressions and sexual orientations can help others understand that you are a safe space.
Abigail Pringle: Read up on the issues facing this community – everyone has a computer and access to the internet. For example, the Human Rights Campaign is a great resource for information. Participate in Wendy's WeQual events and get to know folks in the LGBTQ+ community. If you build relationships and ask questions, it will lead to new ideas for support and engagement.
Steven Derwoed: It all starts with recognizing in yourself the belief that diversity makes us stronger and then being open minded enough to learn about those who are different from you. Having your co-worker's backs, giving everyone a fair chance, and calling out intolerance of any sort will make us all better people. The good thing is that this thought process works in a remote environment just as well as it does in person. 
Blaire Luciano: One silver lining to remote work has been the proliferation of virtual educational events. Organizations are offering so many free options to virtually learn more about many topics, including LGBTQ+ allyship. Block an hour on your calendar and dial-in!
Spirit Day in 2020
Spirit Day has extra meaning this year as COVID-19 is affecting LGBTQ+ youth in ways that compound some of the negativity they can experience. With social distancing measures, increased cyberbullying, housing instability and general anxiety, feelings of increased discomfort are not uncommon. This year, as we celebrate Spirit Day, we also want to highlight the Trevor Project as a space where LGBTQ+ youth can share their thoughts and seek support.
Act as an Ally!
If you'd like to participate in Spirit Day, there are simple ways you can get involved:
- Spend less than a minute signing this online pledge to stop the bullying of LGBTQ+ youth
- Take action on social media by sharing messages with #SpiritDay or changing your Facebook frame to go purple, and have conversations with your family and friends – some great information can be found here. And remember, the conversations aren't limited to this one day!
- Wear purple on Thursday, October 15
- Lastly, you can donate to GLAAD® here to support LGBTQ youth against bullying
* "Coca-Cola" is a registered trademark of The Coca-Cola Company.
*GLAAD is a registered trademark of GLAAD, Inc.