Wendy's Offers English as a Second Language Program to Employees
Read time: 1 min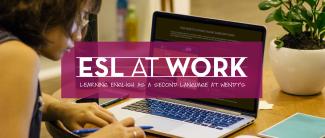 By Juan Cortez-Diaz, a Wendy's restaurant manager in Countryside, Illinois
When I first started working at Wendy's, I learned that the best way to delight every customer is to be friendly and helpful. It doesn't seem like a very difficult task, but for employees who aren't native English speakers, it can be quite challenging.
I came to the United States from Puebla, Mexico already knowing a little bit of English, which helped me feel at ease in my new home and my new job at Wendy's. But some people come to the United States without knowing the language, which can be an intimidating feeling for someone trying to begin a new life. Without guidance and support, it's easy to feel like you're doing something wrong just because you can't understand the language as well as a native English speaker. So when I heard that Wendy's was piloting an English as a Second Language (ESL) program for their company restaurant employees using Rosetta Stone software in Chicago last summer, I immediately reached out to some of my employees who I knew would greatly benefit from English language studies.
Maria Diaz and Cecelia Contreras are two Spanish-speaking employees who didn't know very much English when they started working at Wendy's. While they are both hard working employees, they asked not to work at the front register because they weren't confident in their English.  I respected their wishes, but could tell deep down that they wanted to be at the register talking to customers—and I wanted them to have that opportunity.
When I told Maria and Cecelia about the ESL program, they accepted right way and showed a lot of excitement about the chance to better themselves. 
They took to the Rosetta Stone program very quickly and made every effort to complete as much as they could. They were able to complete lessons on their smartphones and often used their breaks at Wendy's to get in a little extra studying. After a couple of months, their English had dramatically improved, which made them happier—not only at work, but also at home. Now they can carry on conversations with customers during the day and help their children with homework at night. In fact, they enjoyed the ESL program so much that they would like to sign up again in order to learn even more.
"Programs like English as a Second Language are important because they provide opportunity to employees and help develop skills that can be used in every facet of their lives." — Scott Weisberg, Chief People Officer at The Wendy's Company
Maria is so much more confident with her English skills that she asked to be on the register where she can talk and engage with customers. She is coming out of her shell more and more every day. Employees at all levels could really benefit from this program. I know a manager who aspires to grow her career at Wendy's, but feels like her language skills are holding her back. I've told her to look into the ESL Rosetta Stone program because I know it will give her the confidence to achieve her dreams and reach that next level.
Seeing how Wendy's went the extra mile to provide employees with this opportunity is really a wonderful feeling.