Our Favorite TikTok Wendy's "Menu Hacks"
Read time: 1 min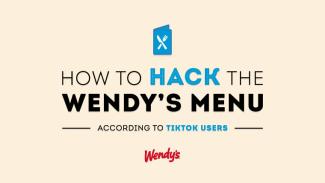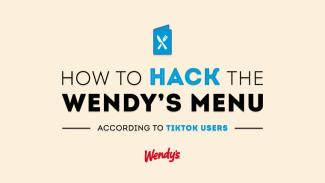 We all love our go-to classics – I, for one, am loyal to Wendy's® Baconator® and Spicy Chicken Nuggets – but every so often, it's fun to shake up our routine with something a little different. One of the great things about Wendy's menu is that so many menu items are made-to-order; it's part of our commitment to quality and to you, no matter your preferences. That said, we know our fans like to switch it up from time to time and we're here to help them branch out and explore the levels of deliciousness our menu can bring.
You didn't hear it from me, but I'm going to let you in on a little secret: TikTok has uncovered some of the most creative menu hacks that can inspire your next Wendy's order. Food is my passion, so while I love our menu just as my team created it, I also get a kick out of seeing the unique spins our fans share. And truth be told, one of my personal favorite hacks is a Spicy Nugg "Nacho" masterpiece – just combine our Spicy Chicken Nuggets, Chili, cheese sauce, sour cream and ranch, and you've got your new go-to late night splurge.
A quick reminder that "hacking the menu" means you're ordering off menu, so the price of your meal will vary by market. Patience is also key as crew members may need some extra time to make your personalized order. But hey – good things come to those who wait!
Ready to get your hack on? Read on for inspiration, and always remember to #HackResponsibly by ordering in-restaurant to keep our drive-thrus quick and easy for fans who prefer the classics. 
Baconator® Fries + Spicy Chicken Nuggets = Game Changer
Top off your Baconator Fries with our coveted Spicy Chicken Nuggets followed by our creamy ranch for the best thing to happen in 2021.
Frosty® Float: Yes, Dreams Do Come True
Calling all Frosty fans: Order a small Vanilla Frosty, choose one of 100 refreshing drink options from Wendy's Coca-Cola Freestyle® dispenser and fill it up halfway. Two American classics equal a delicious, bubbly treat. You're welcome.
Now that you have your inspiration, head to your local Wendy's to get your #WendysHack on. Don't forget to tag #wendys so everyone can get in on the action. Happy hacking!
"Coca-Cola Freestyle" is a registered trademark of The Coca-Cola Company.
*U.S. price and participation may vary