Message from Wendy's President & CEO on Dining Room Closures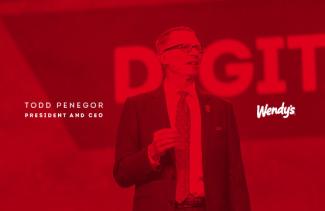 Wendy's Fans:
With the rapid pace at which things are changing around us, we are continually adapting to best support the Wendy's Family, including our team members, franchisees, customers and all of our Company employees who have been providing unwavering support to our franchisees and restaurant teams during these difficult times. While there is much uncertainty right now, we do know that our restaurants are essential to feeding our communities, and we are doing everything possible to keep our restaurants open, while following public health guidance and the evolving guidelines from national, state and local governments.
At Wendy's, the health, safety and well-being of our teams and customers has always been our top priority. And after thoughtful conversations with our franchisees, my senior leadership team and other advisors, we believe the best way we can serve our communities is to focus on delivery and drive-thru services in our restaurants throughout the United States and Canada and close dining rooms for carryout service, except in limited circumstances. We are making similar adjustments to our operations in other International markets as well.
What does that mean?
We will continue to offer…
- Drive-thru service through our pick-up window, in those locations that have them. If a restaurant does not offer drive-thru service, we anticipate that carryout should remain available unless otherwise instructed by law.
- Delivery service with DoorDash, Grubhub and Postmates in the U.S., Skip the Dishes in Canada, and other partners in International locations, where available and permitted.
We will temporarily discontinue…
- Carryout service in our dining rooms. Carryout service will no longer be offered in most Wendy's restaurants as of March 22 in the U.S., Canada and other International markets as appropriate. This means most of our dining rooms will now be completely closed to the public, including for carryout orders. Select restaurants may continue to offer the convenience of carryout service in communities around the globe where there are specific needs or where a drive-thru or pick-up window option is not available, such as an airport, travel center or in an urban area. Decisions to continue to offer carryout services at select restaurants will be made on a case-by-case basis and in compliance with any state or local requirements.
We do not make these decisions lightly, but as we assessed the current situation, we felt this was an important move to make. As a Company, we are adopting these practices in our own operations and strongly encourage our franchisees to do the same, which many are already doing.
As I shared previously, we have taken additional measures to keep our restaurants safe and to ensure that our team members are supported.
- We've engaged internal experts who are informed by and act on science-based information and have been following the guidance of the Centers for Disease Control and Prevention (CDC), World Health Organization (WHO) and local public health authorities.
- We've increased deep cleaning procedures. Throughout the day, restaurant teams have been putting an emphasis on cleaning high-touch areas, in many cases every 15 minutes.
- We are continuing to reinforce our strict food safety procedures, personal hygiene standards, handwashing requirements and sanitation protocols through training and communications.
- We are taking enhanced safety precautions to further protect our team members and customers, including utilizing no-contact and limited-contact ordering options and focusing on social distancing practices at our restaurants. If you have not already, customers can also download the Wendy's app to create an even more contactless experience.
- Due to the current circumstances, there may be instances in which our distribution centers have a surplus of fresh, wholesome food, and we do not want that to go to waste. We are working with our Distribution Centers and suppliers to find ways to divert this food to other channels or to make donations to local food banks, shelters and other charitable organizations where appropriate.
- All Company employees—whether enrolled in a company medical plan or not—have access to our Employee Assistance Program (EAP), which provides free, confidential 24/7 counseling. Further, we have a program in place where all U.S. Company employees have access to telehealth and can see a board-certified doctor through a video consultation from a smartphone, tablet or computer for a low cost, making it easier for employees to get the care they may need.
- It is our policy that employees should not come to work while sick, and we encourage our employees to put their health before their work. If an employee feels that he/she/they may have been exposed to COVID-19, we encourage them to get the testing and potential treatment needed. For Company employees, we have recently implemented emergency paid sick leave to help support our restaurant teams and other hourly employees impacted by certain COVID-19 situations.
We will continue to work diligently to serve our communities in the safest ways possible, and our teams look forward to seeing you at a Wendy's restaurant soon.
Stay safe and healthy.
Take care,
Todd