Message from Wendy's President & CEO: Q1 2020 Results
Read time: 1 min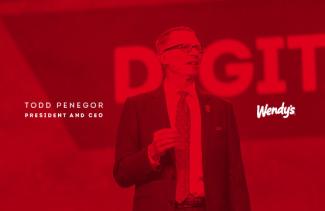 Today, The Wendy's Company released its first quarter 2020 results. Through the first two months of 2020, we saw strong global same‐restaurant sales into the first week of March with the successful launch of breakfast. We then began to feel the impacts of COVID‐19, which ultimately led to same-restaurant sales and adjusted revenues being approximately flat for the first quarter.
Wendy's® response to this pandemic reinforces the values our founder Dave Thomas instilled over 50 years ago – the values that continue to guide us today. The health, safety and well‐being of our teams and customers has always been, and will continue to be, our top priority.
We are proud of the incredible work our teams have done to respond to these changing dynamics to keep our restaurant teams and customers safe, while serving our communities. Our teams acted quickly to let consumers know Wendy's is open for business and for delivery through our U.S. and Canadian partners. We saw strong growth in our digital business as we shifted primarily to a pick-up window and delivery only business model. Wendy's Mobile App downloads and users within the App have increased significantly, telling us we're meeting an essential consumer need right now. More recently, we celebrated our customers with GroupNug on April 24, and the response reinforced everything that we love about the communities we serve.
As we continue to navigate through these unprecedented times, we will continue to work together to serve our communities in the safest way possible. We'll do so the Wendy's Way, focused on providing essential access to quality, affordable food to people around the world.
Watch the video below from Wendy's President and CEO Todd Penegor to hear more:
A Message to the Wendy's Community from Todd Penegor from Wendys Post on Vimeo.