Happy National Student-Athlete Day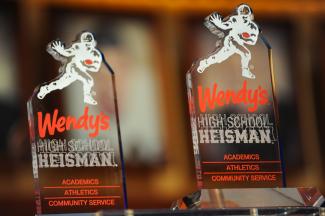 *The Wendy's High School Heisman program formally ended in 2019 after 25 wonderful years of celebrating the nation's most esteemed high school scholar-athletes and providing scholarships to those who went above and beyond on the field, in the classroom, and in their communities. Read more about the program's legacy.
There are a lot of obscure national holidays out there (looking at you National Two Different Colored Shoes Day), but today's observance of National Student-Athlete day is not one of them. At Wendy's, this is a holiday we can get behind as proudly as we do for National Hamburger Day.
Since 1994, we've sponsored the Wendy's High School Heisman which serves to honor students who excel in athletics, academics and community service. In partnership with the team at the Heisman Trophy Trust, the Wendy's Heisman has honored hundreds of thousands of the country's best and brightest high school seniors who've gone on to become quite accomplished professionals. 
Meet our 2015 Wendy's High School Heisman National Finalists and find how their drive, grit and heart set them apart.
We've been boasting about the accomplishments of outstanding young men and women for more than 20 years, and I think our fans, friends and future Wendy's Heisman winners would benefit from hearing how this program started in the first place. 
The Brain-Child Of Our Founder
Dave Thomas dropped out of high school when he was 15 years old in order to work full-time and (we know) went on to become one of the most successful entrepreneurs in history.  While this nontraditional path led to his prosperity, it always worried Dave that others would follow in his footsteps and expect to achieve similar fame and wealth without finishing high school or attending college.
Faced with this dilemma, at 61 years old, Dave enrolled at Coconut Creek High School in Ft. Lauderdale, Fla., and completed his high school education. 
Oh, the seniors that year also named him Most Likely to Succeed…no brainer, right?
Inspired by this moment and with a desire to celebrate the outstanding achievements of youth in America, he launched the Wendy's High School Heisman.
Today, Wendy's High School Heisman has honored more than 600,000 of the nation's most esteemed high school seniors who share Wendy's values of giving back to their communities, treating people with respect, continuing education and excelling on the athletic field.
And like the candidates for the Collegiate Heisman, these students embody a tremendous amount of work-ethic, passion for their sport and dedication to their communities. 
But unlike the collegiate Heisman, our award honors males and females across 42 sports and requires participation and leadership within the community while also getting top academic scores in the classroom.
We think these students are pretty incredible.
We honor students starting at the School-level; every year there are thousands of them.  The field of competition goes on to name 1,020 State Finalists, 102 State Winners and finally 10 National Finalists. 
If you're worried our math is wrong, I should mention that we include the District of Columbia as a separate entity.
We give out Wendy's gift cards at nearly every level, award patches and a financial gift is made to the schools of State Winners and National Finalists.
The National Finalists and their families are also invited to New York for Wendy's Heisman weekend in December and we treat them like celebrities. We're really thankful to be able to bring their personal stories to you.  They're truly powerful. 
Take a look at Seneca's profile; she was a National Finalist in 2015.  
And click here to check out our YouTube channel to hear more inspiring stories.
Are You A Former Heisman Winner?
Whether you were a School Winner, National Winner or something in between, sound off in the comments section below and tell us what you've been up to since winning your award…we'd love to hear it.
Chat soon!
Bry