Taking the Helm…the next step in my Wendy's Journey
Read time: 1 min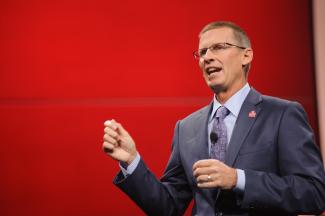 Editor's Note: The Square Deal welcomes to the blog our boss, Todd Penegor
May 26, 2016 was a big day.
It was a day when a long-time dream of mine came to fruition.  I was named CEO of The Wendy's® Company.
As a growing professional, I had set various goals throughout my career and feel so proud to have achieved many of them as I charted my path forward. I enjoyed a successful career at the Ford Motor Company and then spent several terrific years at The Kellogg Company, where I had the opportunity to move beyond the finance function and become the President of the Kellogg's Snacks business.  During my tenure, I was proud that this division became the biggest business unit in the Company with a focus and commitment to growth.  To deliver this, I worked hard to provide inspirational leadership and bold goals, while building a high performing team that was empowered and accountable to deliver results.  Even more important, was creating a culture where people felt valued and appreciated, while ensuring we had the pulse of our customers and execution teams to bring the brand vision to life. 
The experiences gained and lessons learned during these years continue to shape my leadership style and overall business approach every single day.
But three years ago, when the opportunity to join Wendy's as the Chief Financial Officer presented itself, I knew I had struck dream-job territory. I was energized to be joining a team led by Emil Brolick.  Emil had set a clear vision for Wendy's – we are A Cut Above, and we would grow our brand along with the support of the strongest franchise system in the industry.
When Life Comes Full Circle
Joining Wendy's in June of 2013 felt a lot like coming home. 
Why?  Well, my father was a Wendy's Franchisee.
Back in 1984 in Iron Mountain, Michigan my father created the company TLT, Inc. – the initials of me and my sisters.  The business was a family affair from the very start.  It was where we got our first jobs, made our first investments, learned the value of hard work, developed financial discipline and made long-term commitments. 
I was appreciative then of being afforded the opportunity to learn the economic model from my dad first-hand. And today, I am incredibly grateful to be entrusted to lead this iconic brand. 
It is a true honor and privilege to serve the Wendy's community in this capacity.
Looking Ahead
Today, as we begin the next chapter of Wendy's history, I am so very proud of all that we have to look forward to.
We have a great team. From the company and franchise restaurant employees to those working in corporate functions, our employees demonstrate a tremendous amount of pride and passion for what they do. Our people will continue to be a differentiator.

We stay on trend by sticking to the basics. Since our founding, we've maintained a focus on quality, freshness, customization, speed, convenience and affordability. These are the building blocks of Wendy's and we've never faltered in this philosophy. We were intentional when we put "Quality is our Recipe" outside of our restaurants and "Everything Spins off Fresh" inside our restaurants. We remain intensely focused on serving fresh, never frozen North American beef* and top our sandwiches with fresh produce across all our restaurants every single day. We do these things because we are serious about not cutting corners. To us, that means we're not going to sacrifice quality for an easier path forward.

We're rooted in our values. One of Dave Thomas' lasting legacies has been the values he built the Wendy's business upon. We strive to model these every day:

Quality is our Recipe.

Treat People with Respect.

Do the Right Thing.

Profit Means Growth.

Give Something Back.
By living these values, we create a special bond across our customer base and our franchise community.  This bond delivers a special experience for our employees and millions of guests who visit our restaurants every day. 
Delighting Customers Each And Every Day
We strive to surprise and delight our customers through a number of avenues: our great tasting food, our customer service and our remodeled restaurants.  And we are also pushing hard to develop and leverage technology to further enhance your total experience – which includes opening up more avenues to hear from you and gain your feedback.
We are committed to continuous improvement and providing the best experience for our customers.  I'm looking forward to a future of continued growth for Wendy's and thank you for playing an important part in that journey.
You'll hear from me frequently on this space and I encourage you to share your restaurant experiences with us by filling out the form on the contact page, posting your comments or sending us an email to squaredeal@wendys.com.
Thank you for your readership and I look forward to talking with you soon.
Todd