Wendy's Activations Across the Nation
Read stories from Wendy's team members about our marketing activations at top events across the country.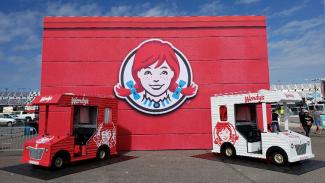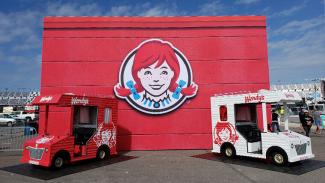 Now is a great time to work at Wendy's®. There's a palpable electricity because, in case you missed it, we are preparing to launch this little thing called breakfast and we're growing our restaurant teams. To celebrate, we're hitting the road and engaging our fans at exciting events across the country. Recently, we served breakfast at the Daytona 500®, a NASCAR® Cup Series race held in Daytona Beach, Florida. It was the 62nd running of the event and consisted of over 200 laps around the 2.5-mile asphalt speedway.
Staffing these events can be challenging - they require leveraging employees to keep Wendy's restaurants operational while also staffing exceptional teams onsite. To support the Daytona 500, we turned to franchise organization JAE Restaurant Group to find the right crew. JAE owns more than 200 Wendy's restaurants spanning locations in Florida, Texas, Tennessee and beyond, so we knew they'd be the right fit for the job!
We sat down with Eddie Rodriguez and Craig Madanick from JAE, Diane Wiggins, a District Manager in Daytona Beach who's worked at Wendy's for 35 years, and Randy Rhames, a Regional Manager who's worked at Wendy's for 25 years. We wanted to find out what it's like to participate in a marquee event like Daytona.
If you're considering a job or career at Wendy's, now is the time and here's why, in their words:
What does working at Wendy's mean to you?
Diane: Wendy's has always been a standout brand to me. We have fresh food, we care about our people, and we always elevate our energy to guarantee successful events or rollouts. For events like Daytona, our entire organization gets involved to ensure that we are as successful and prepared as we can be to represent the best brand in the business.
Randy: Wendy's values and Dave's values are the key for me. When you work for a company that instills these kinds of values in what we do every day – and have been the centerpiece of our success – you can't help but love working for this brand. I have been with Wendy's for 25 years and was sold from day one. I coach, teach and role model these focus areas for my team every day.
Tell us about the 2020 Daytona 500! What were some of your favorite experiences?
Eddie and Craig: It was special for us to honor and reward our best-of-the-best employees with an opportunity to represent Wendy's outside of the restaurant and in the local community during the Daytona 500. It also gave us a chance to partner with the other franchise organizations in the area so high-performing employees from different locations could work together.
Diane: The Daytona 500 is an annual high-energy event for this community, and the fact that we were able to be a part of it was a dream come true. The electricity in the air is already at an all-time high and to be in the center of the event, with thousands of fans excited to taste Wendy's products, was very powerful. The employees who worked the event felt very honored and prestigious.
Randy: We were most excited about serving our great tasting breakfast products to the Daytona fans as we prepare to launch breakfast nationwide. Having tasted our breakfast products already and knowing the superior quality that we deliver, it was the perfect opportunity to introduce the new items to our current and future customers attending the race. Additionally, a lot of our crew that worked the event had never attended the Daytona 500, so the excitement and enthusiasm from them was priceless.
What does it take to prepare 12 or more Wendy's team members to work offsite at such a big event?
Diane: First, we send a message to every General Manager in the area to source volunteers to work the event. For this event, we had multiple responses back within five minutes!
Eddie and Craig: It's also extremely helpful to coordinate with other franchise groups in the area since our entire community is busier during the Daytona 500.
What kind of skills does working at an event like this require that might differ from day-to-day activities?
Eddie and Craig: At events like these, you need employees who are outgoing, hardworking, and willing to be team players and work with employees from other franchise groups. You might be working with people you have never met before instead of your usual coworkers – but that's part of the fun too.
What professional opportunities have you or your employees gained from working at these events? Does it help them grow in their career at Wendy's?
Eddie and Craig: It helps employees feel closer to the Wendy's brand. Being selected to represent JAE and Wendy's brings a sense of pride and loyalty to the restaurant they work for. Additionally, it gives employees the opportunity to meet other people, learn from fellow team members, and feel confident in tasks they might not always have exposure to in-restaurant.
Diane: I have worked at Wendy's for 35 years and I still look forward to seeing what new and innovative ideas we bring to the table. Working an event like the Daytona 500 allows us to be a part of that innovation and grow with the brand.
If you are interested in working at Wendy's, learn more and apply here.
Daytona 500 and NASCAR are registered trademarks of International Speedway Corporation.