Summer Savings, Wendy's Style
Try These Wendy's Specials – Including our New Bacon Double Stack Biggie Bag – to Make the Most of Your Budget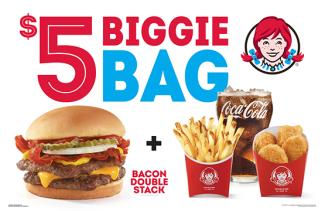 Since 1969 we've had your back. The summer of '69 may have been known as "The Summer of Love", but 50 years later, we're unofficially proclaiming summer 2019 at Wendy's as "The Summer of Savings". All summer long we're here to help you save, whether you're hitting the road with family and need to stretch your vacation budget or are looking to get the most bang for your buck while in between jobs. Life can be complicated but thinking about how to eat well while on a budget shouldn't be. That's why we're proud to have launched a first of its kind value meal, the 4 for $4, that lets you choose between eight meal options with a 4-piece chicken nugget, fries and a drink for just $4. A meal for $4 can be hard to come by, and we can all probably agree the amount of choice you get for $4 is pretty sweet deal.
While it all began with the Wendy's 4 for $4, there are more savings to be found at Wendy's. We've been continually stepping up the Wendy's specials and value menu. This year, we upped the ante by launching the Biggie Bag, a delicious and crave-worthy addition for just $5. We know a thing or two about serving fresh, quality food that doesn't cut corners or skimp on value. Our square patties, made with our signature fresh, never frozen beef *, haven't cut any corners for the past 50 years and the same applies when it comes to delivering value for our customers.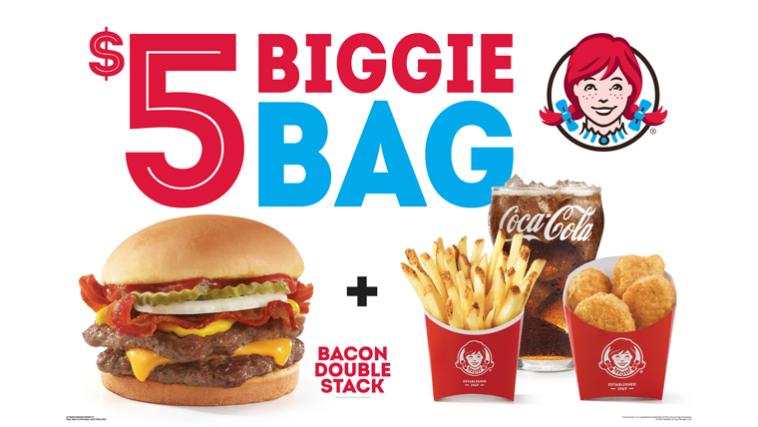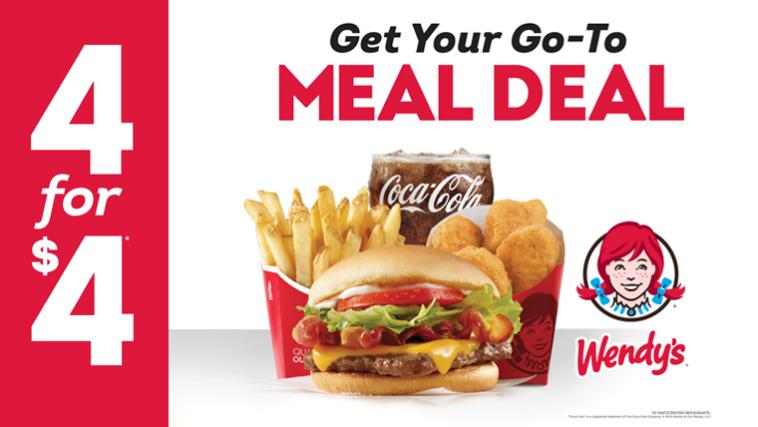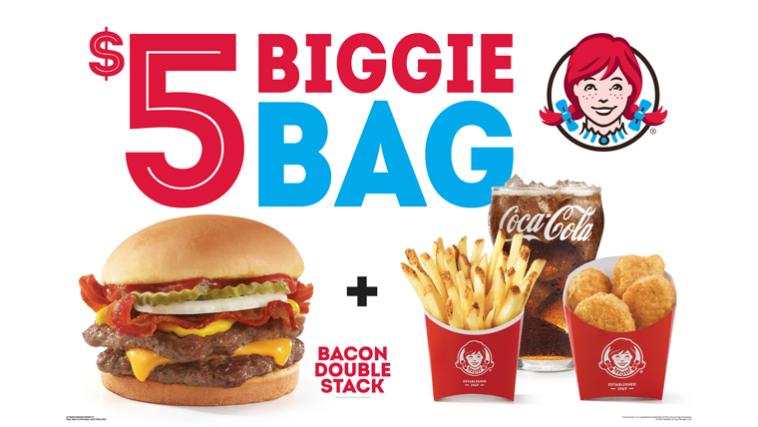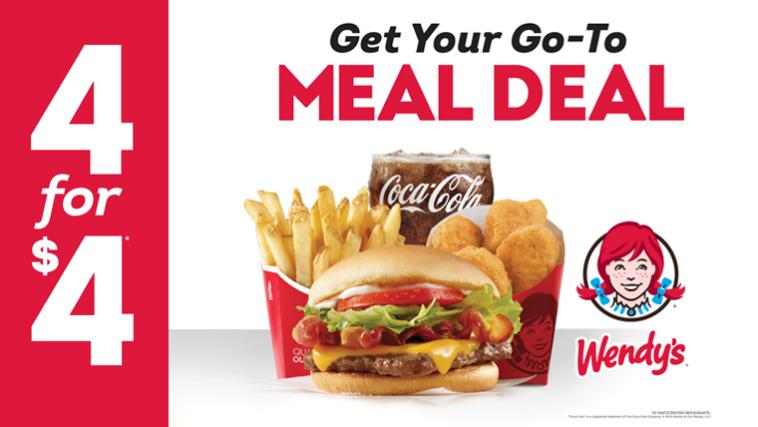 Sometimes the truth is we're not looking to spend extra – or really any – money, but our newest Biggie Bag offering lets you see just how far you can stretch that $5 and get the most bang for your buck. Meet the $5 Bacon Double Stack Biggie Bag. If "Bacon Double Stack" doesn't ring a bell, here's what you need to know: two fresh, never-frozen beef patties*, Applewood smoked bacon, cheese, ketchup, mustard, pickle and onion. If that weren't enough, you also get a four-piece chicken nugget, small fry and a small drink. Hard to believe you get all this for just $5, eh? And if you need a little something sweet to top off your day, don't forget to try the Frosty Cookie Sundae (you can thank us later).
The sound of your growling stomach should motivate you to get your order on. The Biggie Bag, our Value Menu and the 4 for $4 meal menu have you covered no matter your appetite or palette. On a low-carb or keto diet? Eating low-carb at Wendy's while on a budget is not too good to be true, people. In fact, eating well while on a budget is doable.
As we continue the "Summer of Savings", keep your eye on our mobile app for ongoing offers, you never know when the crave might strike:    
* Fresh beef available in the contiguous U.S., Alaska, and Canada.