Sustainability: The Wendy's Way
How We're Celebrating Earth Day and Taking Steps to Help the Environment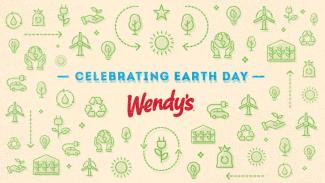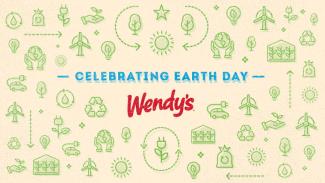 Here at Wendy's, we mean many things to many people. Yes, we can be sassy and make our fans laugh, and our customers can count on us to make the perfect fresh, never frozen hamburger*, but we're also known for making a positive difference in the lives of our fans, customers and communities through our brand purpose: to create joy and opportunity though food, family and community. As we celebrate Earth Day, we want to reflect on how sustainability is a key element to our purpose, and ties into two of our brand values: Do The Right Thing and Treat People With Respect.
 When you think of sustainability, there's a lot to wrap your head around. In our day-to-day, there are so many opportunities to have a positive impact on the environment…from saying "no thanks" to single-use plastic, to carpooling with friends or coworkers, to recycling properly at home, in school or in the office.
Today is a great opportunity to share several of the ways we've been working collaboratively with Wendy's franchisees, employees and supplier partners to keep sustainability top-of-mind. Our Squarely Sustainable approach guides us as we take steps to reduce energy usage, play a role in creating innovative packaging solutions, and develop programs to educate and inform our employees and franchisees, to name a few.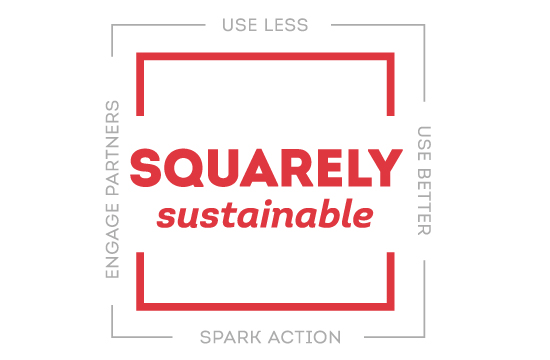 While we're certainly focused on the long term impacts on the environment, we know there are meaningful ways we can engage our Wendy's family every day. For example, today we're excited to kick-off the Squarely Sustainable Pledge at our Restaurant Support Center (RSC) in Dublin, Ohio. Whether it's making an effort to reduce the number of paper cups and straws, or purchasing LED energy efficient lightbulbs at home, there are many little things we can each pledge to do more of (or less of) to take care of the environment. On top of that, Earth Day wouldn't be Earth Day without getting outside to enjoy the spring weather, so we're encouraging our employees to join us for Yoga on the Lawn. Lastly, we're hosting an employee gathering to better educate each other on recycling, and will give every employee at the RSC a reusable cup made possible through our partnership with Coca-Cola.
As proud as we are of how far we've come, we're even more proud of where we're going and the four corners of Squarely Sustainable that guide our efforts.
A Pledge to Use Better
Last year we announced a commitment to revolutionize how we source the vine-ripened tomatoes we serve at Wendy's. Our tomatoes are now sourced from greenhouse, hydroponic farms. Not only do these tomatoes simply taste better, but reduced water and land use burdens and a significantly reduced need for chemical pesticides are also great benefits. And if we can take a new approach with tomatoes, why not look at another important ingredient?
Our sourcing practices are something we continually look to evolve, and it has also led us to rethink how we source and verify our beef. We were the first restaurant chain to partner with the Progressive Beef™ program, an innovative animal care and sustainability program that is built on proven-best practices and third-party verification. Adoption of this program – which verifies cattle for beef were raised in accordance with specific animal welfare standards – will be implemented in a substantial part of Wendy's beef supply starting in 2019, with at least 50 percent by 2021.
A Commitment to Using Less
By now, most of us are aware that we need to reduce single-use plastic across the globe. At Wendy's, we're committed to decreasing the amount of plastic used in straws by 19 percent by the end of this year. That's on top of other in-restaurant changes we've made, like eliminating Styrofoam several years ago, as well as switching to light-weight paperboard fry cartons which require 17 percent less raw materials and leads to saving three million pounds of materials. We are also looking at our entire portfolio of packaging to identify ways we can continue to make improvements and minimize paper and plastic waste. 
And our Smart Design buildings keep getting, well, smarter. In 2017, we launched what we call the "Smart Family of Designs", which are restaurants with a smaller environmental footprint.
Also worth noting, we adopted DocuSign--an electronic signature solution--a few years ago in many departments throughout our organization. While it may seem like a small shift, it has allowed us to save more than 200,000 pounds of wood and around 600,000 gallons of water in just the past 15 months.  
Sparking Action with Franchisees
If you regularly read The Square Deal, you probably recall that we were among the first restaurant companies to join the U.S. Department of Energy's Better Buildings Challenge in 2015, and we were the first participant whose franchisees also joined this Challenge. As part of this Challenge, The Wendy's Company made a commitment to reduce energy consumption in U.S. company-owned restaurants by 20 percent per transaction by 2025. Wendy's corporate-owned restaurants participating in the Challenge have improved energy performance by 12 percent from a 2012 baseline, making progress towards our goal. Energy savings have been achieved by remodeling restaurants, installing LED parking lot lighting, upgrading interior lighting, completing walk-in cooler/freezer motor upgrades, and implementing an energy awareness program focused on low-cost opportunities for savings.
One participating Wendy's franchise organization, Wendium of Florida, has made significant progress against the Challenge. Through simple, yet effective changes, Wendium has been able to reduce their energy usage and meet their Better Buildings Challenge goals seven years ahead of their schedule! The key to their success is what they call their "Three Greens Strategy", which are filters they use when making decisions or installing restaurant equipment. It doesn't get much simpler than this, folks:
Does this change save energy?

Does this change reduce repair and maintenance costs?

Does this change make the environment for both guests and employees better? 
Engaging Partners
On top of working with the best franchisees in the business, we've also teamed up with Closed Loop Partners and are participants in the NextGen Consortium. This consortium is currently focused on the NextGen Cup Challenge, which identifies new and existing solutions designed to optimize the hot and cold fiber cup used by many foodservice operations. We embrace our role as being part of this solution, and look forward to seeing the ideas generated through the Challenge come to life and make a positive difference.
Long terms goals don't see results overnight, but we like to think these changes will ladder up to real, measurable results that firmly root us as a company that's making a difference day in, day out. 

* Fresh beef available in the contiguous U.S., Alaska and Canada.