Thanking Our Supply Chain Partners For National Truck Driver Appreciation Week
Quality Supply Chain Co-op (QSCC), along with our distribution partners, is thanking the millions of professional truck drivers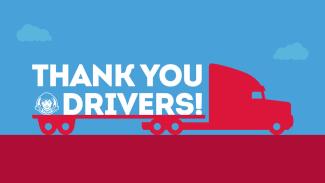 In honor of National Truck Driver Appreciation Week, Quality Supply Chain Co-op (QSCC), along with our distribution partners, is thanking the millions of professional truck drivers who work every day to deliver North America's freight safely and securely to provide for our communities. The trucking industry is the backbone of our economy, and the drivers are the heart of the trucking industry.
Truck drivers deliver over 10 billion tons of freight every year, which is about 70% of all the freight moved in the U.S. In the U.S., 80% of communities – cities and towns just like yours receive all their goods via truck.
 Wherever you are right now, take a look around. Most likely, everything you see…all the groceries and material goods around you traveled by truck at some point thanks to the 4 million professional truckers in the U.S. and Canada. As the saying goes, "If you bought it, a truck driver brought it!"
QSCC's VP of Distribution and Logistics, Pat Brown, is passionate about the critical role that professional truckers play in Wendy's supply chain.
The Wendy's system has an amazing team of drivers keeping our restaurants adequately supplied so we can continue serving our valued customers. Their commitment to safety and dependability has been nothing short of heroic – especially during the pandemic. These essential workers have persevered when the road has been rough, and the Wendy's family will always be grateful.

The life of a professional truck driver is not for everybody. At QSCC, we are collaborating with our distribution and logistics partners, searching for new procedures and practices to reduce the physical work, time away from home, and regulatory restrictions that truckers face every day.

It's also important that we simply show our appreciation. Happy drivers are better drivers, and we want to show how much we value their work and commitment. Some franchisees provide free meals to Wendy's distributor delivery drivers passing by their location and we encourage these sincere gestures of appreciation.
During National Truck Driver Appreciation Week, take a moment to be thankful for the efforts of North America's truck drivers and recognize that without them, your home, your business, your dinner table, and your life, would look very different. Next time you see a driver on the road, or at your local Wendy's, give them a friendly wave or offer a "thank you" for all of their hard work--because their jobs are crucial to keep us going, not just during these next two weeks, but always.
Want to say thanks yourself? For those in Canada, you can join the National Trucking Week conversation here and if you're in the U.S., you can follow the National Truck Driver Appreciation Week conversation here and #ThankATrucker on social media.