Up Your Drive Thru Coffee Game With Wendy's Cold Brew
Read time: 1 min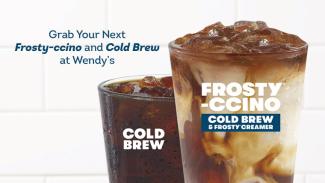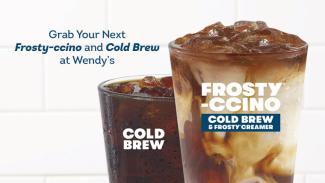 From beans to grind, coffee is more than a beverage, it's ritualistic.
At Wendy's, we know our customers rely on coffee to fuel their day, and we must be there with an incredible portfolio of offerings. We've taken great pride, care and intention in crafting our coffee. So, this transition from winter to spring got us thinking it's the perfect time to shine a spotlight on our refreshing and chilled coffee offerings: Cold Brew Coffee served on ice and Vanilla and Chocolate Frosty®-ccino.
What's Special About Our Cold Brew Coffee?
A couple of years ago, my team looked at Wendy's existing cold coffee portfolio. It featured iced coffee that we offered by simply brewing our hot coffee and pouring it over ice. It's an easy, traditional practice likely used at dozens of other chains, and probably how you do it at home. However, when considering how carefully we were curating our breakfast menu, serving an up-leveled iced coffee experience was imperative. At the end of the day, caffeine and taste matter in a coffee experience and the dilution that comes from iced coffee didn't make the cut for Wendy's breakfast menu.
This iced coffee journey brought us to what's on our menu today: Cold Brew Coffee served on ice.
How Do You Make Cold Brew Coffee?
Cold brew coffee is created by slow-steeping coffee beans in cold water and then removing them after 12 hours. Consumers taste bitter notes, like they do with iced coffee, but Cold Brew yields an extra rich and super-smooth taste resulting in natural sweetness and caramel-like flavors that make for a creamier drinking experience.  
So, while the process is simple, we take great pride in the development of Wendy's custom Cold Brew bean blend because they've been hand-selected from across the world to deliver a robust yet sweet and smooth drinking experience for every palette.
Is Cold Brew Coffee Stronger Than Regular Coffee?
Depending on your caffeine tolerance, you might want to consider that because of the higher coffee-to-water ratio used in the cold brew process, cold brew also tends to have more caffeine than traditional hot coffee.
Let's Talk About The Frosty-ccino
I'm inspired by culinary innovation in all forms and combining our chocolate and vanilla Frosty® flavors with Wendy's Cold Brew is pure genius! Who doesn't want Wendy's Frosty in their coffee? The magical taste profile of the Frosty-ccino centers on the confluence of our Cold Brew and your choice of chocolate or vanilla Frosty creamer poured on top and served over ice for a sweet caffeinated experience.
If you haven't tried one yet, now is the perfect time, and you can order through the Wendy's app.
With your Cold Brew or Frosty-ccino in hand, you can explore pairing it with our line-up of incredible hot breakfast sandwiches for the full flavor experience of sweet and savory. Here are favorite combinations and you can also check out additional breakfast inspiration.
- The Vanilla Frosty-ccino + Breakfast Baconator®: The Breakfast Baconator includes everything you'd want in a breakfast sandwich with our signature grilled sausage, a fresh-cracked egg, six strips of Applewood smoked bacon, and melted American cheese is topped with a warm Swiss cheese hollandaise sauce, all served on a fluffy, toasted premium bun. Pair that with the rich taste of the Vanilla Frosty-ccino, and your taste buds will thank you.
- The Chocolate Frosty-ccino + Sausage, Egg & Swiss Croissant: A brunch-esque duo that will satisfy every craving. The Sausage, Egg & Swiss Croissant includes a fresh-cracked egg and Wendy's signature square sausage patty, topped with warm Swiss cheese hollandaise sauce served on a flaky, croissant made with 100% butter because we're all about the quality of our food at Wendy's. Wash that down with a sip of a creamy Chocolate Frosty-ccino for a match made in flavor heaven.
Don't believe our Cold Brew and Frosty-ccino have changed the "iced coffee" game? We'll let our fans speak for themselves.
@Wendys cold brew is ???

— REDACTED (@ddaawnnieee) March 25, 2020
The vanilla frostyccino from wendys?? im never going back to starbucks again

— Brooklynn (@brooky_baeee) December 14, 2020
Wendy's cold coffee line-up will make your mornings better – head to your nearest location to get your hands on a Cold Brew, Vanilla Frosty-ccino or Chocolate Frosty-ccino.
But if you're not a cold coffee fan, Wendy's also has a deliciously smooth, medium-roasted hot coffee featuring a blend of 100% Arabica beans from central and south America. No matter the season or your coffee preference, you're all set.
As always, our team loves to hear your feedback! Whether you're trying Wendy's Cold Brew and Frosty‑ccino for the first time, or it's part of your morning routine, be sure to Tweet us @Wendys or leave a comment below.