Wendy's Hosts 2017 Investor Day in Dublin, OH
Read time: 1 min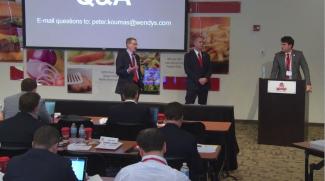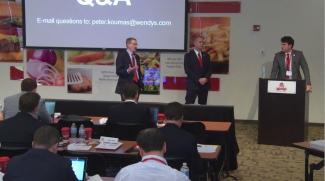 Editor's Note: Today's Square Deal blog comes to us from Peter Koumas, Wendy's Director of Investor Relations. Peter took over responsibility for our IR department last year after a three and a half year stint in our Treasury Department and prior experience as an accountant. He's one of our rising stars at Wendy's and was named a Wendy's Employee of the Year last year for his Treasury work that helped us execute a Whole Business Securitization (in layman's terms: super complex financial transaction that made our Company stronger). We're thrilled to welcome Peter to The Square Deal.
On February 16, Wendy's hosted its 2017 Investor Day, an event the Company has held annually for the last several years. But for me, it was a first because it was the first Investor Day since I took over responsibility for Investor Relations at Wendy's. It was a big day for us – one that took several months to plan – and I thought others might be interested in why we host an event like this and how a company like ours works with our investors.
Why Host An Investor Day?
Every quarter we report our financial performance, which is required of any publicly traded company. But once a year, an Investor Day allows us to provide a more in-depth view of the major initiatives we have underway that give us the confidence we can achieve the financial goals we are setting. We host it at our headquarters in Dublin, Ohio and also make it available by webcast to anyone who can't join in person (there's a rule called Reg FD which says a public company like Wendy's has to disclose material information to everyone at once, and a webcast or a press release are two ways to do that. Material information is anything that is important enough that it might affect an investor's decision on whether to buy or sell our stock).
We host our Investor Day at the beginning of our financial year so we can release the results of our prior year's performance, give investors our "guidance" for the coming year, and talk about our longer term goals even further into the future. Guidance means we tell them what we believe we can deliver on all of our key financial measures – how much revenue and earnings we expect to generate; how profitable we expect to be; what capital investments we plan to make; major initiatives we'll undertake; and how much cash flow we expect to generate at the end of the day to return to investors. Of course, all of these goals are forward-looking projections. No one can predict the future. But, believe me, they're well- grounded in our plans…the lawyers make sure that we have a "reasonable basis" for everything that we say (I just love those guys).
Who comes to Investor Day?
Actually, calling it Investor Day is a bit of a misnomer because most of the people who attend aren't Wendy's investors; they're financial analysts who cover our company and make recommendations to those who are (or may become) Wendy's investors. These people are called Sell Side Analysts – they work for investment banks like Goldman Sachs, UBS and Deutsche Bank just to name a few. They typically cover a particular industry sector (for us, it's Restaurants) and closely follow multiple companies in that field. They publish their research on these companies, which includes recommendations for investors to "Buy, Sell or Hold" the stock. Investors who follow them can then make decisions about different stocks based on their recommendations. In the old days, they actually sold their research reports to subscribers, hence the term "sell side." We are currently "covered" by 21 sell side analysts, which is a lot, and quite a few of them joined us in Dublin.
We also have investors at Investor Day (which does make sense after all). These are called Buy Side analysts – meaning they represent someone who is a buyer of our stock. They are in-house financial analysts who work for large Wendy's investors, like investment funds who have a stake in our company. These analysts come to learn more about our plans and help determine whether they think their fund should hold their current stake in Wendy's, buy more, or sell.
In total, we hosted about 35 analysts in person in Dublin and they came in from New York, Boston, LA, Pittsburgh and elsewhere. Another 385 people joined by webcast, which included Wendy's employees and franchisees who also wanted to hear what we had to say. You can replay the presentations from Investor Day from our website if you're interested.
What do you talk about at Investor Day?
Our Chief Financial Officer (we call him either Gunther or GP – he's my boss) and I spend a lot of our time communicating with both buy and sell side analysts so they understand our business. And when they have questions, it gives us a sense of what other investors may be curious about too. So we start with the things we know we need to share about our business as a public company, then we add the things we think people want to know about our business, and we also prepare for the questions we expect our visitors will ask.
We started the day with a riveting introduction by me (actually I'm responsible for reviewing the agenda, introducing our speakers, and making sure I read the disclaimer that our lawyers write). Then Todd, our President and CEO, gave an overview of the business as a whole – how we did in 2016, what we're expecting to deliver in 2017, and a longer term view of where we expect to be on our growth journey by 2020. Then GP spent about a half hour going through a detailed financial review of everything Todd just talked about.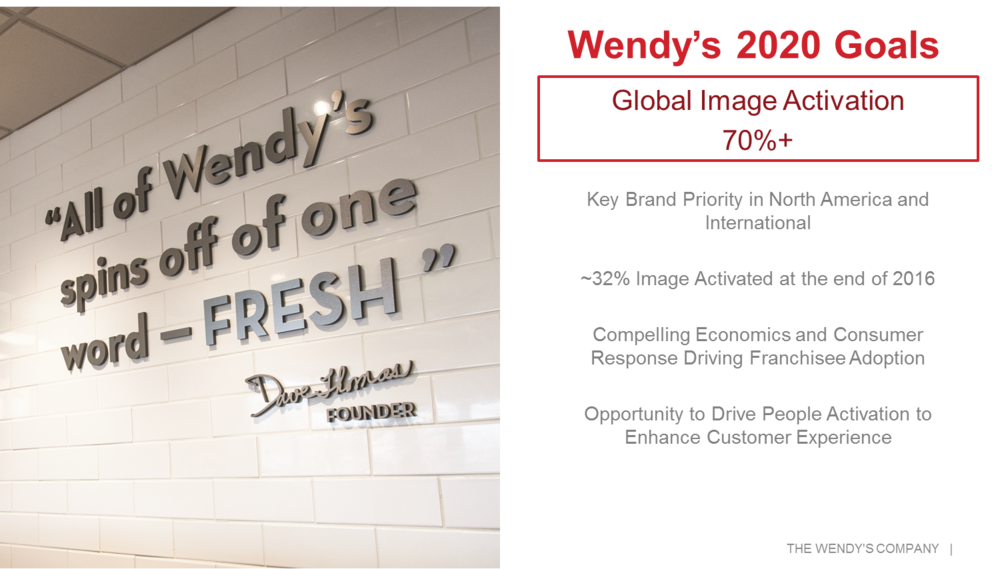 Following GP, our head of marketing and product development, Kurt Kane, gave us a peek at Wendy's 2017 marketing plans, including a full-court press on our fresh beef message and our chicken quality. Then our head of restaurant development, Abigail Pringle, talked about how we're giving more people access to our brand by building new restaurants and remodeling our existing restaurants to be more modern and updated. Those two presentations are always a balance, because we want to share information with enough detail that it gives our investors confidence in our plans. But we also know this is public information and our competitors are watching, so we're careful not to share more than we need to and give up a competitive edge.
We then heard from our head of operations and international, Bob Wright, with two different topics – first, how we're growing our business internationally, and second, what we're doing to make our restaurant business more profitable. And finally, our head of technology, David Trimm, talked about how we're using digital experiences to serve our customers with things like in-restaurant ordering kiosks.
After the presentations and a final wrap-up from Todd, we spent about 45 minutes answering questions about all the topics we had covered throughout the day.
Does anything else happen at Investor Day? Is it any fun?
Actually, yes on both fronts (although it would have been slightly more fun had the stock price not dropped during the day). One of the great parts of Investor Day is the opportunity to show off our team – the type of thing it's really hard to do on a quarterly earnings call. So we kicked off Investor Day the evening before with a small gathering in our lobby. All of our leadership team and others in Finance who work with investors and analysts were able to mix and mingle with our guests to get to know each other a little better. We're very careful not to talk about anything we haven't shared publicly yet because of that whole Reg FD thing I told you about. But it's always better to make a personal connection with people who are interested in your company, and we think this is a good way to do it.
Finally, we're a restaurant company, so you can bet we serve some great food. We had an amazing lunch thanks to our very talented culinary team, and I don't think anyone left Dublin hungry. We had a burger with bacon and queso and fries to match, a new fresh mozzarella salad we're testing, a couple of signature drinks that are unique to Wendy's, and of course, a Frosty®.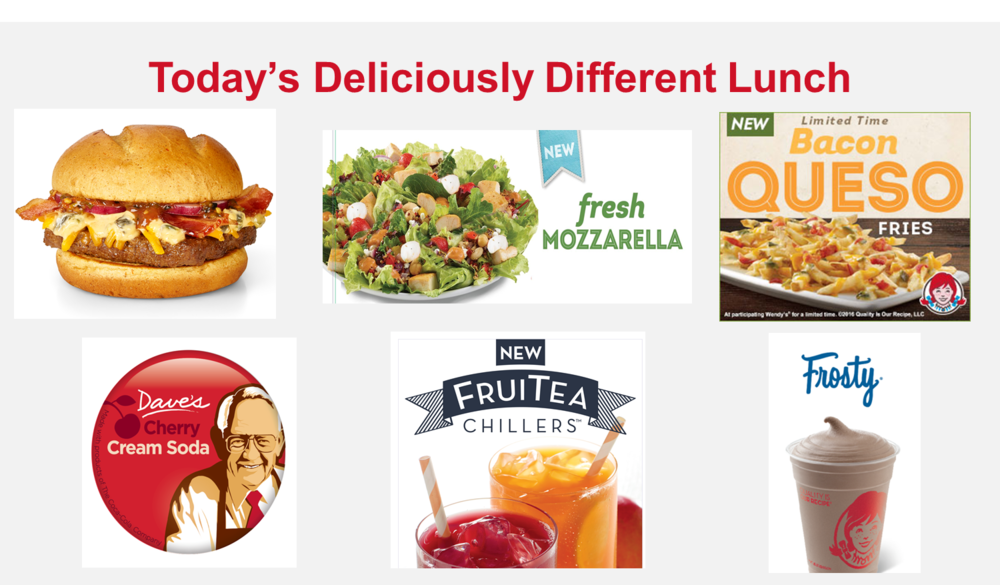 Now that Investor Day is done, we'll spend the next several days reading what these analysts have to say about our business in the reports they publish. We hope their reports will give a clearer view of what we're working on and why we think Wendy's is a great investment.
As for me, I'll take a few days to rest, and then we'll be right back at it, getting ready for the next cycle of financial reporting.  And before we know it, we'll probably start planning next year's Investor Day.