How Wendy's Created Joy & Opportunity for 200 Top GMs
Renee O'Neal, of Schmidt Family Restaurant Group, Accepts the Award for Top General Manager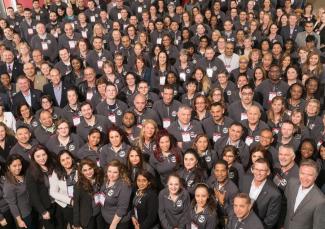 Last month, Wendy's recognized and celebrated 200 outstanding restaurant General Managers (GMs) for their leadership, performance, dedication, and continued service to the Wendy's brand. 
I was honored to participate in the Top GM awards dinner, where we announced the Top 10 GMs in front of their peers. The thrill of the evening was seeing Renee O'Neal accept her award as our Top General Manager. Renee and her franchise organization, Schmidt Family Restaurant Group, should be incredibly proud of this accomplishment.
Renee began working at Wendy's when she was just a 17-year-old high school student and truly represents the career opportunities that are available at Wendy's. She is passionate, proud, caring, and committed to her team and her customers. And boy does it show! Renee can't help but have a smile on her face when she talks about working at Wendy's.
Watch below to learn more about why Renee thinks "Wendy's is awesome." Congratulations, Renee! We're proud to call you a member of the Wendy's family.