Wendy's Frosty Boo! Books are a Good Deal for a Good Cause
Wendy's Boo! Books are available starting 9/4 and have free Jr. Frosty coupons for you to use by 12/31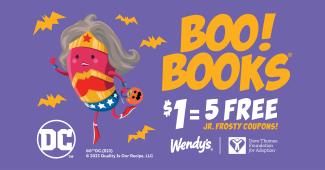 Have no fear, Wendy's® Frosty® Boo! Books® are here! Making an epic return in time for HalloWEENDY's, Frosty Boo! Books feature FIVE free Jr. Frosty treats for only $1...plus some action-packed surprises!* All (Frosty) treats – no tricks!  
What are Frosty Boo! Books? 
Proceeds from each Frosty Boo! Books coupon book sold directly benefit the Dave Thomas Foundation for Adoption®* to find safe, loving and permanent homes for more than 113,000 children in foster care. Last year, Wendy's raised a remarkable $8.2 million for the Foundation – and this year, we're joining forces with Wendy's Kids' Meals and DC Comics® to make even more family moments possible for children in foster care.  
For just $1,  Super Hero™ and Frosty fanatics alike can enjoy a DC-inspired coupon book with FIVE free Jr. Frosty treats, featuring iconic Frosty characters dressed up as  Batman™, Superman™, and Wonder Woman™ (and more!). And the fun doesn't stop there – Wendy's is adding a SIXTH bonus coupon to redeem a $1.99 Wendy's Kids' Meal® with any purchase.* Plus, each Wendy's Kids' Meal will feature collectible DC  toys and special-edition packaging for a limited time. Talk about an epic treat for the whole family!   
Be a hero and level up your Halloween candy for Frosty Boo! Books – the treat that gives back!  
How to Purchase Frosty Boo! Books 
This #SpookySeason, simply put on your cape and head to a participating Wendy's restaurant from now through October 31, 2023 and request your Frosty Boo! Books at the counter or in the drive-thru. You can also order via the mobile app or through Wendy's self-order kiosks—just add your Boo! Books to your order from the "Give Something Back" category. The free Jr. Frosty coupons are good to use until the end of the year! 
If you'd like to order a bulk supply of Boo! Books for your neighborhood trick-or-treaters, or any other reason, you can order via the Foundation's order form. 
These heroic coupon books make the ideal Halloween candy alternative, gift for a family member or friend, or as a little "treat" for yourself this fall!  
To learn more about Frosty Boo! Books and how Wendy's is working to make more family moments possible, visit www.davethomasfoundation.org.  
*At participating U.S. Wendy's restaurants while supplies last. 90¢ of every $1 coupon book sold from 9.4.2023 – 10.31.2023 will benefit the Dave Thomas Foundation for Adoption. Coupons valid from 9.4.2023 – 12.31.2023.   
DC Comics name and logo, Batman, Superman and Wonder Woman are trademarks of DC Comics, used with permission.