Wendy's Launches Spicy Black Bean Burger in Select Markets
We're Testing a New Alternative-Protein Option in Columbus, Jacksonville and Pittsburgh.
Read time: 1 min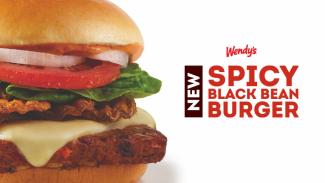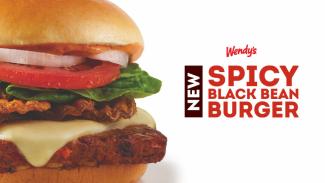 Everything we do at Wendy's is rooted in our Food Vision, Fast Food Done Right, and it's a guiding light for our culinary evolution. That vision is grounded in bringing fans food that's real, fresh, craveable, doesn't cost a fortune and that's also forward leaning. We're always excited to tap into food trends we know people are seeking, but in our own unique Wendy's way. That's why we're so excited to introduce a new addition in the Columbus, Jacksonville and Pittsburgh markets–the Spicy Black Bean Burger. We spiced up the Made to Crave lineup with this new, alternative-protein option for our fans who are looking for a sandwich full of flavor without chicken or beef, those craving a freshly prepared option that's different from a salad or our "heat junkies" looking to set their tastebuds ablaze in a new way.
If you're in Columbus, Jacksonville or Pittsburgh, what are you waiting for?
We Don't Cut Corners – Even On Our Plant-Based Proteins
We saw an explosion in the demand for plant-based proteins and identified a culinary opportunity to deliver a high-quality sandwich for flexitarians. We believe that meatless doesn't mean flavorless. As a company known for its hamburgers, we set out to meet those standards for those who may want to flex away from meat for the day but still desire a mouth-watering bite. We tested and applied learnings and worked closely with suppliers on a sandwich that brings the heat and pushes the boundaries of what is possible from a fast-food brand–in a way only Wendy's can.
This sandwich flips the notion of a bland, texture-lacking black bean patty on its head. All the ingredients were carefully curated to play off the flavor from the black bean patty which itself is crafted using a blend of spices including paprika and chipotle pepper. There are multiple levels of subtle heat added with crunchy chipotle jalapeños, creamy, melted pepper jack cheese and a spicy chipotle sauce for a smoky hint that still provides an approachable flavor—one that won't have you searching for water like our Spicy Chicken Sandwich, for example. For added depth and to provide that delicious crunch, there are fresh tomatoes, sweet onion slices and crisp romaine lettuce all placed between a warm, premium toasted bun.
As a brand known for our fresh, never frozen beef*, we know a good burger and designed this sandwich with flexitarians in mind. We approached the design and innovation of this build in the same way we do for our Made to Crave menu offerings–with dynamic flavors at the forefront.  
Are you ready to feel the heat this summer? If so, I suggest you head to your closest participating Wendy's, place an order through our mobile app or your preferred delivery partner to see what you've been missing! And don't forget—if you're like me and always looking out for deals and steals on food, download the Wendy's mobile app to start earning points to claim Rewards on your favorite Wendy's items.
*Fresh beef available in the contiguous U.S., Alaska and Canada