Wendy's to Reduce Greenhouse Gas Emissions and Climate Impact
Q&A with Wendy's Chief Corporate Affairs and Sustainability Officer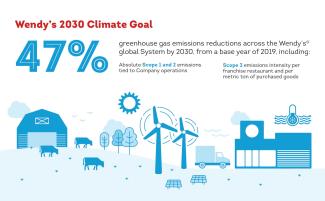 We're committed to sharing updates regarding Wendy's® Corporate Responsibility platform, Good Done Right. Much of our work is focused on reducing our environmental footprint and creating change within our communities and across our more than 7,000 restaurants worldwide. Today, we're proud to share our commitment to taking aggressive action against climate change through ambitious cuts to greenhouse gas emissions within our Company and value chain.  
Wendy's has set near-term science-based targets to reduce Scope 1, 2 and 3 greenhouse gas emissions–a milestone on our Company's climate journey. The goals, which were newly validated by the Science Based Targets initiative (SBTi), underscore Wendy's commitment to transparency and mitigating our climate impact. 
Wendy's Near-Term Science-Based Targets  
Compared to a 2019 base year, by 2030, Wendy's goal is to reduce:  
Absolute Scope 1 and 2 greenhouse gas (GHG) emissions by 47% 
Scope 3 GHG emissions intensity by 47% per metric ton of purchased goods 
Scope 3 GHG emissions intensity by 47% per franchise restaurant 
To better understand the importance of Wendy's science-based targets and path to emissions reductions, we sat down with Chief Corporate Affairs and Sustainability Officer Liliana Esposito.  
Looking back for a moment, how did Wendy's begin its journey to reduce emissions? 
As a leader in the QSR industry, we set out to understand our System's climate impact to make sure we are doing our fair share to slow global warming. Our work started with getting our arms around the emissions generated from Company operations, our Scope 1 and 2 emissions, covering direct Company emissions and indirect emissions derived from energy sources. We initiated greenhouse gas data collection in our operations in 2019 and, using that data, we reported our 2020 climate data to the CDP Climate Change Disclosure, a leading disclosure practice for environmental reporting. We continue to collect and report emissions annually. 
In 2021, we conducted a lifecycle assessment to evaluate Scope 3 emissions from our entire value chain. Scope 3 emissions cover a significant piece of our business accounting for emissions of our franchise restaurants and those within our supply chain. Scope 3 emissions are critical to our climate journey, given 95% of our global restaurants are owned and operated by franchisees and our global supply chain is predominantly based in agriculture. 
Following our analysis, we committed to a climate roadmap for completion by the end of 2023, with the goal of establishing a science-based target and interim milestones to measure and track our progress. With the publication of Wendy's near-term science-based targets today, we completed this climate roadmap nearly a year ahead of schedule.  
Why was it important for Wendy's to set science-based emissions targets?   
By setting science-based targets, organizations learn how much and how quickly they need to reduce their greenhouse gas emissions to prevent the worst effects of climate change. Wendy's near-term science-based targets were reviewed and approved by the Science Based Targets initiative (SBTi), a global body that defines best practices in science-based target setting and assesses companies' targets. This independent, third-party validation was important to ensure Wendy's followed the latest science in establishing our approach to cutting emissions.  
Through this process, we have gained a better understanding of our emissions sources and opportunities to make ambitious cuts across our operations and value chain. With the announcement of our emissions reduction targets, we are committing to meaningful, credible and measurable progress in substantially reducing our climate impact by 2030.    
Can you share a glimpse into Wendy's work to get its science-based targets validated?  
The intensive process of understanding our footprint, submitting our greenhouse gas emissions targets and earning validation from the SBTi was led by a small but mighty team at Wendy's. Since committing to our goal to establish a science-based target by the end of 2023, our dedicated team worked to ensure we met the SBTi's criteria for timeframe, emissions coverage and ambition.  
Our goal to cut absolute Scope 1 and 2 emissions and Scope 3 emissions intensity by 47% is aggressive and a commitment we don't take lightly. Our Scope 1 and 2 science-based target aims to reduce emissions within Company operations at a pace consistent with keeping warming below 1.5°C. This is the most ambitious designation available through the SBTi's validation process and aims to avoid the worst effects of climate change. Our Scope 3 targets, which focus on addressing indirect emissions from purchased goods in our supply chain and downstream emissions in our franchised restaurants, are on the well below a 2°C pathway. 
Thanks to the team's commitment and support across the Wendy's System, the validation of our science-based targets accelerates Wendy's journey to mitigate climate change. Through ongoing tracking and emissions disclosures, we will continue to work throughout our System, alongside Company operations, franchisees and suppliers, to reduce our emissions.  
What projects are already underway across the Wendy's System to achieve these goals?   
While working to establish our science-based targets, we continued to take action to reduce emissions across our System. We're leading by example and have already implemented energy savings measures and introduced equipment updates within Company restaurants and operations.  
Our actions to date have focused on enhancing energy efficiency and procuring renewable energy for our restaurants. We recently introduced Wendy's Global Next Gen design standard for new builds, which is approximately 10% more energy efficient than Wendy's most common restaurant format. Additionally, the Wendy's Energy Challenge provides a roadmap for franchisees to implement energy-efficient improvements in their restaurants.  
We started procuring renewable energy through our participation in Duke Energy Florida's Clean Energy Connection pilot program, which supplies certain Company restaurants in this region with solar energy.  Learnings from our participation in this program will help to inform future franchisees' transitions to renewable energy. Despite commercial demand outpacing available supply for renewable electricity, we are refining and advancing a broader renewable energy procurement strategy across the Wendy's System.  
We take inspiration from franchisees who have gone above and beyond to begin addressing their emissions footprint. Looking to the future, we plan to partner with our more than 6,500 franchised restaurants, which contribute approximately 10% of our Scope 3 emissions, to help facilitate their transition and share what we have learned through our efforts. We take pride in our relationships with franchisees, which are instrumental in delivering on our commitments. 
What do you see as the greatest area of opportunity for Wendy's to reduce emissions?  
Collaboration is critical to achieving energy reductions and global efforts to reduce emissions, particularly when we have less direct control of emissions reduction practices. Purchased goods, such as food and packaging, represent the lion's share of our Scope 3 emissions at nearly 85%, with beef, chicken, dairy and pork the most significant contributors.  
One way we are approaching value chain emissions reductions is through our responsible sourcing commitment to responsibly source our top 10 priority food categories by 2030 in the U.S. and Canada. This goal aims to address many environmental indicators, including emissions and water. We will continue to collaborate with suppliers in scope for this sourcing goal to identify ways to reduce emissions or sequester carbon in their operations and shared supply chain.  
Brands can only thrive and endure for the long term when they operate sustainably, and we take our role to be a good steward of our limited resources seriously. We are proud of our commitment and are looking forward to continuing our journey to make aggressive cuts to our emissions. Stay tuned for a comprehensive update within our 2022 Corporate Responsibility report, which we will publish this spring.