Meet Our 2017 Community Ambassador of the Year
Read time: 1 min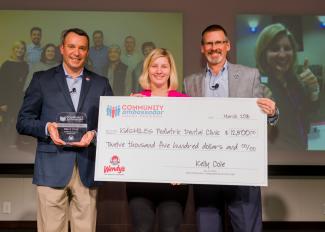 April is National Volunteer Month: a month dedicated to honoring volunteers and all they do to make our communities a better place. 
To celebrate National Volunteer Month and Wendy's values – you know we love to give back! –  we'd like to tell you about Kelly Cole.  Kelly is a Senior Analyst in our financial reporting department, who was recently named Wendy's 2017 Community Ambassador of the Year for her exemplary community service with KidSMILES Pediatric Dental Clinic, a volunteer-led pediatric dental clinic in Columbus, Ohio.
A true believer that everyone deserves a healthy and beautiful smile (and the confidence that comes along with it), Kelly began volunteering with KidSMILES as a fundraiser organizer.  Her passion for creating smiles led her to become more involved with the organization and in 2017, Kelly was voted to the KidSMILES Board of Directors as Treasurer.  She's using the financial skills she's honed at Wendy's to better her community, and we are delighted to recognize her leadership and service to this worthy cause.
Watch below to learn more about Kelly, KidSMILES, and why she believes "smiles are contagious".  Congratulations, Kelly!