When Family Comes Full Circle
Serving Up Leadership the Wendy's Way
Read time: 1 min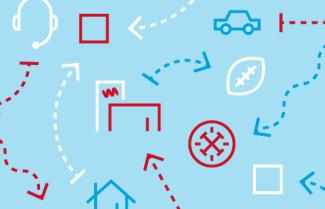 Editor's Note: The Square Deal welcomes back our President & CEO, Todd Penegor. We'd like to give a special shout-out to Todd, as he recently received the gold Stevie Award for Executive of the Year in the Food & Beverage category. Well done!
Family comes in many forms. The family you're born into, the family you choose and last, but not least, your work family - or your teammates. We spend so many hours during the week at work, so finding a work family you feel confident in calling your own is something that's always been important to me throughout my career. Oddly enough for me, family and Wendy's have been intertwined since 1983 – or as I like to fondly remember it – the year I became a Spartan (Go Green!). That year, I left my hometown of Iron Mountain, Michigan for the pastures of East Lansing. At that same time, my parents decided it was time for something new, too – which meant building and opening Iron Mountain's first ever Wendy's restaurant.
Over the years and in between college fun – including plenty of MSU football games – I'd visit my small hometown on break, and of course head to Wendy's. Whenever I visited, it always felt like home. I'll never forget the two General Managers at the time, Gene and Bruce. I'd make my way to the salad bar, and eventually the Super Bar, sit in the solarium and eat lunch or dinner, which Gene and Bruce would cover. One thing I learned from getting to know Gene and Bruce is that they didn't talk at their team, they talked with their team. They didn't ask their teams to do anything that they weren't willing to jump in and do themselves. Watching Gene and Bruce showed me that Wendy's takes care of people.
Now if you didn't know this about me, I'm a big sports guy. In most sports, teams win, not individuals. And I believe that everyone needs to play their designated role on the team, in the very best capacity they can, for the team to be successful. In fact, Dave Thomas built the Wendy's team around a similar thought: "everyone has a role to play, and every role is important." That's a big reason why after stints at Ford and Kellogg, leading the Wendy's team makes me feel like I'm home. To me, home means I get to surround myself with the best team far and wide to stay true to Dave's original vision, while innovating and forging our own path ahead. We're still serving the best fresh, never frozen* hamburgers in the industry, but we're also continually transforming and moving the needle in categories like value, customer service, and product innovation.
Leading the Wendy's team as President & CEO is truly my dream job. We're an extended team of all-stars and the culture we've created – one where people lead by example and motivate others to raise their game – makes me feel so privileged to lead this iconic brand as we head into our 50th anniversary next year.
I recently paid that original Iron Mountain Wendy's restaurant that my family once owned a visit. The restaurant was recently remodeled, so the solarium is no longer there, but the restaurant looks great and it still brought back many memories. Thirty-four years later, this single Wendy's has created so much joy and opportunity for my family, the current owners and operators, and the local community.
And you know what the reader board said when I pulled in? It read, "Welcome home, Todd Penegor", which said it all. 
*Fresh beef available in the contiguous U.S., Alaska and Canada.