Words of Affirmation. To Go.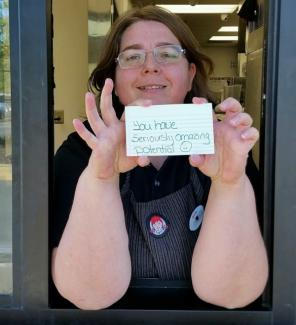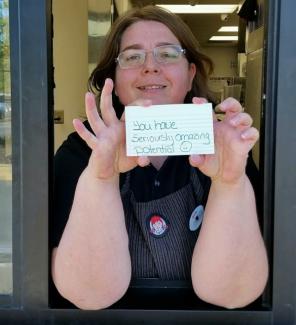 Focus on the details. Dave Thomas knew that was what was going to set Wendy's apart. And that's why he made sure that the details were accounted for in every restaurant—from sourcing quality ingredients and customizing any order any time, to delicious flavor combinations that leave you wanting more.
Sometimes those details go unnoticed, which is why Tracy Swords is so important.
Tracy Swords, a Wendy's team member in Anderson, South Carolina, is taking Dave's advice to heart, using his words of wisdom to delight every customer in her own unique way.  Her specialty? Handwritten notes! 
Shortly after her first day working in the drive-thru at the North Anderson Wendy's, Tracy started writing notes to customers with messages like "You are loved!" and "What you do matters!" and would pass them out with order receipts. 
"I decided I could make a difference in my role at Wendy's," Tracy said. "We don't know each other's struggles, and if you can make a small impact and change in someone's life, it makes a big difference."
It's that extra detail that has helped build relationships and make friends out of customers. Some have even cried tears of gratitude because the simple note made a big impact on their day. 
"You don't know what the customer is facing or going through that week, so I just smile and be nice to everyone," Tracy said. "I do this because I want to make a difference."
Note to self, Tracy: You're making more of a difference than you know.