Ready, Set, Earn: 'Wendy's Rewards' Launches in Canada
Earn Your Way To Free Food: Wendy's Loyalty Program Comes to Canada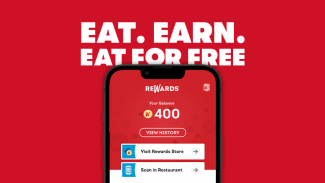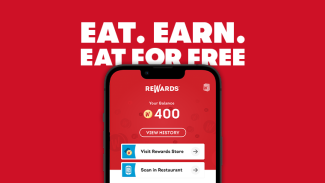 Today, our Wendy's Rewards™ program expanded into Canada! Now you can get rewarded for something you're already doing: eating at Wendy's. We know we have some of the best fans around, and for that, we think you deserve to be rewarded for your excellent taste.
How Does It Work?
Download the Wendy's Canada app and sign up with either an email, Facebook or Google account, and you can start earning points on literally any Wendy's menu item. Customers will earn 10 points for every $1 spent on food, with opportunities to earn bonus points on certain items from time to time. 
Your points are then added to your account in one of two ways:
- First, if you place an order for pickup or delivery with the Wendy's app or website, you're good. That's literally all you have to do. Mobile and website orders add Rewards points automatically. Done and done.
- The second way is to scan the QR code in your Wendy's App at the counter or pickup window when you place an order. Simple.
Okay, Show Me How It's Done
Below are step-by-step instructions for redeeming rewards on your iOS or Android device in the Wendy's app.
1. Open your Wendy's app and click on the Rewards section at the bottom to see all the glorious points you've earned so far. 
2. Click on "Visit Rewards Store" to see what menu items are currently available to trade in your points for. We'll keep the options updated, because we're all about keeping things fresh. Select your fave to unlock.
3. To redeem your Reward in a mobile order, tap on your Reward and select "Use in Mobile Order" and get to ordering. Coming to the restaurant instead? Hit "Use in Restaurant" to load your Reward to your digital card to scan before you pay.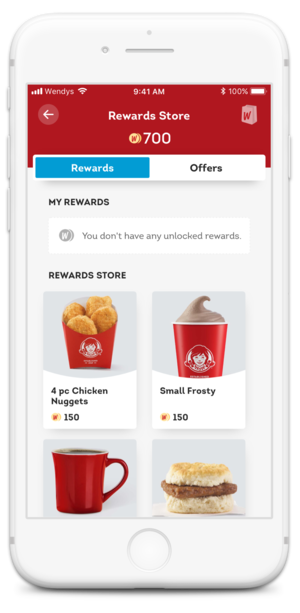 That's It?
Seems too good to be true, right? It's not! All you have to do is make sure you've signed up before your next Wendy's order. Start earning points and make eating at your favorite restaurant even better. 
If you have specific questions we didn't answer above, hit up our Wendy's Rewards™ FAQs.
Happy earning!
Wendy's Rewards available at participating U.S. and Canada Wendy's. To browse the menu or find a restaurant near you, visit order.wendys.com/location.
Orders placed directly with third-party delivery providers do not qualify for Wendy's Rewards points at this time.