Wendy's 2021 Good Done Right Award
Recognition of a Supplier Making a Positive Impact within Our Supply Chain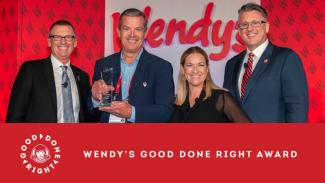 Doing the right thing guides The Wendy's Company, including our approach to corporate responsibility, called Good Done Right, and how we select, partner and celebrate our suppliers. We believe working with suppliers who share our values is essential to our business. Becoming a Wendy's supplier goes beyond providing the highest quality products – it also means providing best-in-class programs, a collaborative and transparent approach and enthusiasm to join us on a journey of continuous improvement.
In 2019, we created an award to recognize a supplier making a positive impact within the Wendy's system in the categories of Food, People and Footprint, and whose actions align with our Good Done Right strategy. This accolade is now called the Good Done Right Award.
We are happy to share that during our recent annual Convention, Wendy's awarded Cavendish Farms with the Good Done Right Award.
Cavendish Farms, headquartered in Canada with operations in Canada and the United States, is one of our French fry suppliers. The steps the company is taking to reduce its environmental footprint are worthy of recognition. For example, Cavendish Farms' innovative solutions for potato waste (think potato peels, misshapen potatoes and used cooking oil) include using it as a natural fertilizer on the company's potato fields, providing it to farmers to feed cattle, and even processing it into biogas to fuel the company's processing plants. Notably, after switching to biogas, Cavendish Farms' largest facility reduced greenhouse gas emissions by more than 50%!
In addition to innovative solutions within the company, Cavendish Farms also works closely with watershed organizations to support local sustainability initiatives including the following:
Growing pollinator plant mix and donating seeds to local groups to support healthy environments for bees and other insects, which contribute to crop growth
Planting trees alongside local watershed partners and community groups on Cavendish Farms property not suited for agriculture
Re-engineering large potato fields to reduce the risk of soil erosion at the advice of a local watershed group
Congratulations, team Cavendish Farms!
We also recognized four suppliers with honorable mentions for their contributions to support a responsible Wendy's supply chain:
- Perdue Farms: Perdue has a robust Diversity, Equity & Inclusion program that includes having a Diversity Champion at every facility. Perdue even captures data from external partners, including vendors and farmers, to help improve the representation of marginalized groups.
- Kraft Heinz Canada: Among its many efforts, Kraft Heinz Canada is pursuing Clean Label designation on specific items to promote food safety and nutrition. The company has made bold public commitments related to sustainable packaging, renewable energy and reducing energy, water, and waste.
- Lamb Weston Meijer vof: Since 2011, Lamb Weston Meijer vof, which supplies French fries to Wendy's restaurants in the UK, has had a clear sustainability strategy that includes food safety, quality, nutrition, and health among its focus areas. The company also has a sustainable agriculture plan with a goal to achieve gold certification for 100% of its more than 600 growers in Europe using the Farm Sustainability Assessment (FSA) tool developed by SAI Platform.
- Antunes: Antunes is a toaster supplier to Wendy's, and at one facility, the company generates 12% of its total energy usage through solar power. The company also purchases 50% of its electricity from green sources.
We are proud to partner with these suppliers and commend their efforts to source responsibly and positively impact their workforce and our environment. As Dave Thomas would say…well done!