Wendy's Makes Late Night Better with Extended Drive-Thru Hours
Late night cravings just got a glow up. A Wendy's drive-thru near you is now open until midnight or later.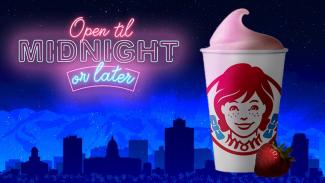 Just because the sun sets, doesn't mean your cravings stop. We're here for you when that little voice in your head tries to tell you it's time for bed, but you know you'll only dream of a hot, juicy Wendy's® hamburger. When the late night cravings strike, Wendy's has got your back and is now open until midnight or later.**
What are the best Wendy's Late-Night menu items?
You can't go wrong with any of Wendy's menu items when a craving strikes, but these four classics just hit different at night:
Are drive-thru and dine-in hours the same?
Not necessarily. While Wendy's is open until midnight or later,** check your local Wendy's hours before making a special trip! Feeling tired and looking to order your Wendy's faster? We make it even easier with these pro tips: 
Download the Wendy's app and order your late-night noshes ahead!
Stay in bed and get your favorite Wendy's order delivered with the Wendy's app, DoorDash, Grubhub or Uber Eats.
Is coffee available late-night?
You're in luck – Wendy's newest Frosty Cream Cold Brew is available for when you need an extra boost, even late at night. Whether you're working a late-night shift or need a late-night pick-me-up, Wendy's Frosty Cream Cold Brew is here in Vanilla, Chocolate and Caramel flavors. Wendy's also serves regular cold brew and hot coffee all day and night if that's more your thing.
Whether you're in the mood for a nighttime nibble or a have an appetite for a midnight meal, Wendy's is here to save the day night.
*Fresh beef available in the contiguous U.S., Alaska and Canada. 
**Hours may vary at participating Wendy's.