Celebrating the Importance of Family Every Day
Growing Families Through the Dave Thomas Foundation for Adoption's Wendy's Wonderful Kids Program
Read time: 1 min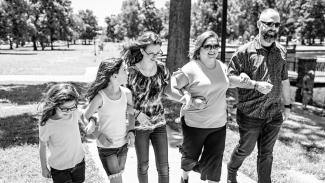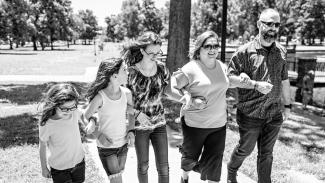 Every family has their own story, and Wendy's® is no exception. At Wendy's, family is a big part of everything we do. Wendy's wouldn't be here without our founder, Dave Thomas, who was adopted. Dave has a story that drives a lot of what we do today – both in our restaurants and in our charitable work. In fact, Wendy's was founded because Dave wanted to create a friendly, welcoming restaurant atmosphere where families could enjoy an affordable meal made with quality ingredients. In short, family was – and in a lot of ways still is – the inspiration behind Wendy's.
Family also means a lot to the Patterson family. A family of four based in Kentucky, the Pattersons decided they wanted to expand their family and started to look into the adoption process. Jackie Patterson discovered the Dave Thomas Foundation for Adoption® and their Wendy's Wonderful Kids® program while working with a local community-based services office. Wendy's Wonderful Kids funds and trains adoption recruiters who dedicate their time to finding permanent, loving homes for America's longest-waiting children in foster care. You can read more about it here. To date, nearly 8,000 children have been adopted as a direct result of the Wendy's Wonderful Kids program.
Jackie and her husband, Kevin, were drawn to the Wendy's Wonderful Kids program because it not only allowed her family to grow but also offered the support they needed throughout the adoption process. The Patterson family's Wendy's Wonderful Kids recruiter helped them expand their family through specialized training and mentorship, and by providing essential resources needed before during, and after the adoption process.
Exploring One Special Family's Wendy's Wonderful Kids Experience
After they learned about Wendy's Wonderful Kids, Jackie and Kevin's Wendy's Wonderful Kids recruiter educated them about their new daughter, Haylee's, background and needs. They learned how to support Haylee emotionally to help bring stability and love that would lead her to thrive.
When we asked the family about their adoption experience, Jackie emphasized the importance of open-mindedness, patience, love, compassion, and forgiveness when adopting an older child. In their home state of Kentucky, there are more than 9,500 children in foster care. The Pattersons recognized these youth have a lot of love to give and accept.
Jackie told us, "Every child has great potential. Helping that child to reach their potential and even seeing their excitement when they become even the smallest step closer is so worth it. To our family, Wendy's Wonderful Kids means more than we can put into words."