Celebrating International Women's Day
Women are Doing Great Things at Wendy's
Read time: 1 min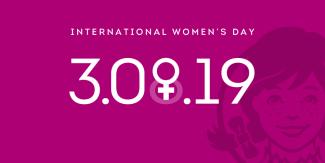 March 8th is International Women's day, which encourages the study, observance and celebration of the vital role women have played in history.
Wendy's® and women go way back.
You may have heard that this year, we're celebrating our 50th anniversary as an iconic brand where a female is the face of the Company. You know her as Wendy – the spirited, red headed daughter of our founder, Dave Thomas. Dave chose to name his restaurant after Wendy in 1969 and her likeness has since become a cherished part of our brand identity.
Wendy's and Canada go way back, too.
In 1975, we opened our first restaurant north of the American border.
In 1976, Wendy was on hand at the NASDAQ exchange to announce our Company's initial public stock offering. Later that year, we celebrated the opening of our 500th location with the debut of another restaurant in Toronto.
Fast forward a decade… we introduced our "Where's the Beef®?" slogan in a commercial starring actresses Clara Peller and her sidekicks Elizabeth Shaw and Mildred Lane. The commercial turned out to be the year's most popular and a longstanding fan favorite.
Since then, women have continued to play prominent roles throughout the Wendy's system, from being named Top General Managers to owning their own restaurants across the United States and Canada.  
Which brings us back to our friendly northern neighbor and, in particular, franchisee Angelee Medeiros.
Angelee owns and operates a Wendy's restaurant in Ajax, Ontario, just east of downtown Toronto, and what's particularly inspiring about Angelee is the story of how she got here.
We sat down with Angelee to hear her story and learn more about how she became a part of the Wendy's family. Get her story below:
So, when did the idea of owning a Wendy's franchise pop into your head?
I always wanted to be in business for myself, and I've always worked in food and hospitality. I was a General Manager (GM) for another QSR brand in the 90s, prior to being hired as a GM at my current Wendy's.
I'd been a GM at my current restaurant for several years and learned all about Wendy's and business through that experience. Suddenly, I was turning 40 and felt that if I didn't jump into franchising then, I would never fulfill my personal dream of becoming a business owner.
So, I took the leap.
How did the opportunity to take that leap finally present itself?
I actually communicated my dream of becoming a business owner during my GM interview, so when the previous owners were ready to sell, they came to me first.
Has it been everything you imagined?
Wendy's is a great franchisor and provides a strong support system. If you utilize the opportunities provided by Wendy's, you can certainly run a successful restaurant.
What makes a great female leader?
Over everything else, you have to convince yourself that you have the qualifications and capability to lead. A great leader is organized, can prioritize their time well, and never blames others for their own blunders. She learns from her mistakes and rises to the occasion when necessary. To run a successful team, leaders have to admit when they're wrong, and gain trust and respect among their peers and staff.
Is it important that more women get involved in franchising?
In today's society, franchising is a man's world, so it's important for more women to get involved with franchising to make it more representative of the population. Women look at things differently. When I sit in on council meetings, I'm usually the only woman. We need more women to use their voice and talk about their perspective of running a business and being a franchisee.
What are you most proud of as a woman who owns a business?
I'm most proud to be a role model for other women, in general, and young employees who are women. I'm also proud to be a strong role model to my own two daughters. I'm proud to show them what a strong woman can accomplish.
Maybe a woman who has thought about owning a franchise is reading this – what advice do you have for her?
My advice is to do your homework, obtain all the information that you can about the business, and get involved with a franchise that shares your values. Remember, it's your personal wealth, time, sweat, and tears you're investing, so ensure you've done your research and enjoy the type of business you're considering. Believe in yourself and start as early in your life as possible.
Wendy's has opportunities for new franchisees and new unit growth worldwide. Wondering how to become a Wendy's franchise? Click here to learn more, visit our FAQ page, or contact us directly at Wendys.Franchising@wendys.com