Celebrating Wendy's Team Members
Shining a Light on Those Who Go Above and Beyond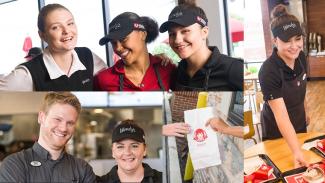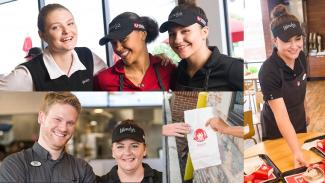 If there's one thing that threads all 6,700+ Wendy's® locations together, it's most certainly our Wendy's family.
From those at the pick-up window who serve friendly words of encouragement to team members who go out of their way to show kindness when it's needed the most, it's "Wendy's Kind of People" who create a positive restaurant experience that brings our customers back. This, and of course our quality food (fresh, never frozen hamburgers, we're looking at you*). A little fun aside, we pride ourselves on many things, an important one being that when you work at Wendy's, you're like family.
We'd like to show those who go above and beyond to help our customers a little extra love by sharing their stories. If you have a story about how a Wendy's team member brightened your day, tweet us @wendys and it just might be featured next!
A Hometown Hero
They say not all heroes wear capes – sometimes they wear a Wendy's uniform. Tammy Blower, who works at the South Point, Ohio Wendy's restaurant owned and operated by Schmidt Family Restaurant Group, was in the right place at the right time when she recognized that customer Jon Johnson was having a seizure at the pick-up window. Tammy jumped into action, quite literally, by jumping through the pick-up window to help Jon. Her swift action prevented Jon from potentially driving into traffic on a busy road with his family in the car. Recently, Jon and his wife Linda paid Tammy a visit and presented her with the WSAZ Hometown Hero award.
Going the Extra Mile
Wendy's restaurant teams work hard every day to Delight Every Customer, but sometimes they just know when to go the extra mile. Richard Wise-Attwood, a JAE Restaurant Group employee in Albuquerque, NM did just that when he went out of his way to assist two blind patrons and ensure they had an enjoyable Wendy's experience. Richard made sure these customers had a comfortable seat, carried their food to their table and placed it in the right order, and visited the duo several times to check-in. Richard wasn't looking for praise, he just has a kind heart and did it because he "knew they needed it". Richard was recognized by his team and Today for his kind act and was also nominated for the franchise organization's JAEStar program that rewards employees who embody the core values of Wendy's founder, Dave Thomas.
History and Humor in the Drive Thru
Whoever said a pick-up window experience can't be fun and personal hasn't met Mr. Ryan, a Wendy's of Bowling Green team member in Clanton, AL. Mr. Ryan often provides tongue-in-cheek commentary, quick laughs, on-the-fly menu recommendations, and history lessons to his customers. He does it all with a smile on his face (did you know 1589 is the year following the defeat of the Spanish Armada? Now you do, thanks to Mr. Ryan!). See him in action for yourself and if you can, pay him a visit to witness his gift of gab.
* Fresh beef available in the contiguous U.S., Alaska and Canada.