Celebrating Those Who Go the Extra Mile
When Actions Speak Louder Than Words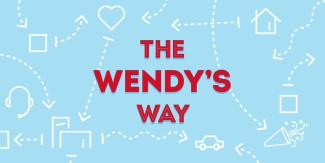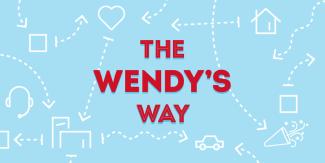 It's an old adage and while we may not realize it in the moment, actions speak louder than words.
What we do and how we choose to treat people can make a lasting impression on strangers and friends. It's great when we learn about examples of this type of behavior by Wendy's employees, and it's important that we take a minute to appreciate those moments and the people who make them.
At Wendy's, we strive to make every visit a positive one. Whether it's treating our customer to a simple smile as they walk through the door or a friendly welcome at the pickup window, our Wendy's family always has our customer's best interests at heart.
Over the past few weeks, we've noticed that members of the Wendy's family around the country are really embracing the Wendy's Way of Delighting Every Customer. We've collected a few stories that highlight how important it is to treat others with respect, compassion and humility. Whether celebrating a storied career or a random act of kindness, Wendy's fans and family never cease to amaze us with their ability to make life a little sweeter.
Have you witnessed a special moment or an act of kindness at Wendy's? Tweet us @Wendys and maybe we'll share your story next!
Paying It Forward 
Anyone who has forgotten their wallet at home can relate to the heart-stopping feeling you get when you realize you can't complete your purchase. It can be inconvenient, frustrating, and maybe even a little embarrassing. For Colorado mom, Claudia Rivers, this experience came right as she was about to pay for her lunch - and as you'd expect, it was during a lunch rush. Luckily, Wendy's crew member Nicole Wilde stepped in to save the day and paid for Claudia's order with his own money. And as for the form of payment he requested in return? Nicole simply asked Claudia to pay it forward with kindness. Well done, Nicole!
Retiring A Career for the Books
Bradley Hobbs, affectionately known as 'Lil' Brad', knows how much community means to the Wendy's family. Bradley, who has Down syndrome, has spent the past 20 years serving the people of Pataskala, Ohio and his kindness has not gone unnoticed by local Wendy's customers. So much so, that at his retirement announcement, the community celebrated Brad with gifts, words of praise, a key to the city, and rounds of applause. This local celebrity will not soon be forgotten for his sharp wit, friendly demeanor and ability to make an ordinary Wendy's experience, extraordinary. As for what he'll be up to in his retirement? Lil' Brad says he's going to watch tv and spend time with his family. Enjoy the well-deserved retirement and thanks for showing us all the Wendy's Way, Lil' Brad!
Taking Care of Each Other
Our Wendy's team certainly knows the power of social media, so when we found this story via Facebook, we couldn't help but highlight the awesome team at our Wendy's in Peachtree, Georgia. A group of young crewmembers go out of their way to help an elderly, disabled man every time he visits his local restaurant. From making sure he can get in and out of his vehicle, to helping him order a meal, this team goes above and beyond to ensure this man has a great experience. Thanks for treating everyone like Wendy's family!