Cleaning Up the Competition
Meet Joe Flynn, a Wendy's Top 200 General Manager
Read time: 1 min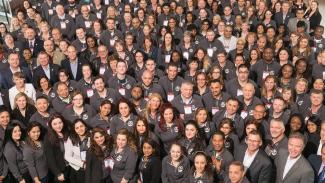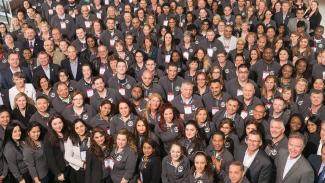 Earlier this year, Wendy's recognized 200 outstanding restaurant General Managers (GMs) for their leadership, performance, dedication, and continued service to the Wendy's brand. 
Among this special group is a distinguished class of Top 10 Wendy's GMs, whose efforts are a cut above the rest. One of them is Joe Flynn, General Manager of Wendy's franchise partner Quality Served Fast in Dickson City, PA.   
Joe joined Wendy's 20 years ago after serving in the United States Army during the first Gulf War. This is the second time he has been recognized as a Top 10 GM, so The Square Deal sat down with him recently to discuss the finer details of his success and delve a little deeper into the competitive spirit that makes him tick.
On His Approach to Restaurant Cleanliness
Quality starts outside for Joe. He says the exterior of the restaurant is the most important cleaning point, because that's the first thing a customer or compliance inspector sees. He says his restaurant routinely gets A's on inspections, because the restaurant "wows" visitors on the outside and in the dining room. 
The "White Glove" Contest
Quality Served Fast used to host a company-wide contest to determine which of its restaurants was the cleanest – that is until Joe's restaurant won the contest so many times in a row that Quality Served Fast stopped doing it.
"We've had some successes throughout the last 15 years," he says, chuckling.
What He Looks for When Trying to Hire Great People
With a population of just under 6,000, Dickson City creates an interesting hiring dynamic. The average age of Joe's employees is 18, but he hires a lot of 15-year-olds. They stay with his restaurant through high school and, if they go to college in the area (and he's lucky, Joe says), they stay through college.
"We're a melting pot of races and personalities, but the commonality is they're all nice and friendly. Skateboarders, football players. I get all the awards, but they do all the work."
Joe hires all of his managers from within, which helps him build and maintain a positive culture.
"My interview stops after about the second question, because if you can smile and present a good first impression and act like you want to be here, I'll hire you," he says. "If you can't teach yourself to be happy, then I can't help you."
About That Competitive Spirit…
"Everybody thinks I'm competitive, but I just don't like to fail," Joe says.
He notes that he's ultimately not competing with the other restaurants. Instead, he compares his approach to that of a golfer, who's trying to beat the course instead of his rivals. "We have that attitude in the restaurant, too – that culture," he says.
It must work, because Joe's restaurant has achieved 10 straight years of sales growth.
On His Bond with Other Wendy's Top GMs
Since his selection to Wendy's Top 200 GM class a few years ago, Joe has formed close relationships with his counterparts – and a new competition. He and a handful of other Top GMs started a fantasy football league for the first time this year. But their relationship runs deeper than running backs.
"If I have a problem I can't figure out, I have a bunch of people I can text with questions," Joe says. "A couple of us text almost daily."
He says they'll often text each other inspection scores as a competition, of course, but a good-natured one.
"If I get a 92 on my inspection, I'm happy. If you get a 95, I'm happy for you. We're all on the same team, effectively."