Women Franchise Owners Share Their Stories and Lessons
Get Inspired from These Successful Women in Business and See How Wendy's Is Creating Opportunities for The Next Generation of QSR Entrepreneurs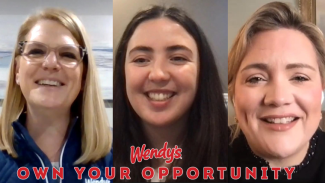 Earlier this month, we celebrated International Women's Day and honored members of the Wendy's® family who we are proud to call colleagues, partners, and friends. Today, we shine the spotlight on Wendy's strong women franchise owners. Their ongoing engagement is a great example of the many successful and inspiring women who are part of the Wendy's family.
We recently announced Own Your Opportunity, a new franchise recruitment initiative that creates expanded restaurant ownership opportunities for all – including women and people of color. In celebration of Women's History Month, we're sharing stories from a few of our successful women franchisees that we hope will inspire more women to become Wendy's franchise owners. Check out the video to hear more from these Wendy's System leaders!
When you become a Wendy's franchisee, you own more than a great restaurant – you Own Your Opportunity, with a path to prosper and the prospect to lead. Want to learn more? Visit wendys.com/franchising, and let's talk today!
Notice and Disclaimer: The information contained on this blog, including within the video, is provided for informational and illustrative purposes only, and not in connection with the offer or sale of a franchise. This information is not intended to be, and should not be relied upon or construed, as a representation by Wendy's that any franchisee can expect to attain any specific level or range of profitability or success.