Message from Wendy's President & CEO on COVID-19 Precautions
Read time: 1 min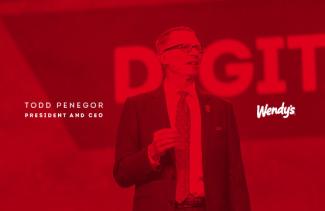 Wendy's Fans:
For more than 50 years, Wendy's® has been committed to providing a high-quality restaurant experience, and nothing is more important to us than the health, safety and well-being of our Wendy's family members and customers.
This is certainly an unusual and unprecedented time, and we are focused on the actions where we can make a difference. To that end, the Wendy's system has taken a number of precautionary steps to advance public health goals, maintain essential access to high quality food, and safeguard our team members and customers from the spread of COVID-19.
- Engaging Experts. Several weeks ago, we engaged an internal team of subject matter experts who are informed by and act on science-based information, and are guided by our core values. Like the rest of the world, we are monitoring the situation closely and are following the guidance of the Centers for Disease Control and Prevention (CDC), World Health Organization (WHO) and local public health authorities.
- Increasing Deep Cleaning Procedures. Public health authorities recommend regular cleaning and handwashing as some of the most preventative actions, which have always been part of our restaurant training and procedures. We have guided all restaurant teams to take additional safeguards like conducting daily deep cleanings of the entire restaurant. Throughout the day, the teams are also putting an emphasis on cleaning high-touch areas, in many cases every 15 minutes.
- Reinforcing Proper Handwashing. We are continuously reinforcing our strict food safety procedures, personal hygiene standards, handwashing requirements and sanitation protocols through additional retraining and communications.
- Offering Drive Thru & Delivery Options. Our focus remains on continuing to serve food to our customers. All of our restaurants offer a carryout option, and the majority of our restaurants have drive-thru pick up windows where contact is also limited, and we are prepared to expand our ability to serve customers that way if needed. You can also order Wendy's through delivery with our third-party providers—DoorDash, GrubHub and Postmates in the U.S., Skip the Dishes in Canada and a variety of other partners across the globe.
- Supporting Employee Wellness. The health and well-being of our employees is a top priority. All Company employees—whether enrolled in a company medical plan or not—have access to our Employee Assistance Program (EAP), which provides free, confidential 24/7 counseling support for a wide variety of topics, including help with childcare, elder care, financial issues, life events, and mental health and emotional wellbeing support. Further, we have a program in place where all U.S. Company employees have access to telehealth and can see a board-certified doctor through a video consultation from a smartphone, tablet or computer for a low cost. This makes it easier for employees to get the care they may need.
- New Emergency Paid Sick Leave Policy. It is our policy that employees should not come to work while sick, and we encourage our employees to put their health before their work. If an employee feels that he/she/they may have been exposed to COVID-19, we encourage them to get the testing and potential treatment needed. In response to this global pandemic, the Company is implementing new emergency paid sick leave to help support our restaurant teams and other hourly employees not currently covered by an existing company policy. We will be providing up to 14 days paid leave related to COVID-19 challenges.
No matter how you order your food at Wendy's, I hope you know that you can count on us and that we've always got your back.
This situation is rapidly evolving, but our commitments to doing the right thing and treating people with respect remain. As we navigate any challenges we face, we'll do it the Wendy's Way, and with a focus on taking care of our people and our customers.
Take care,
Todd