Message to Wendy's Team Members Re: COVID-19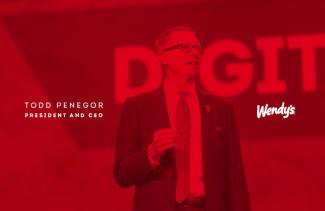 Our restaurant operations have changed significantly over the past few weeks, with some of these changes happening quickly and with urgency as we all work together to support public health directives to slow the spread of COVID-19.
Most Wendy's restaurants are currently operating with drive-thru and delivery service only, and we are incredibly proud of how the Wendy's family has managed through these changes. Every restaurant team remains committed to providing an exceptional experience for every Wendy's customer, and we continue to work diligently to serve our communities in the safest way possible.
With all the change, one thing remains constant…Wendy's is a people business, and the spirit of our Wendy's people remains strong during this challenging time. Our restaurants are essential to feeding our communities, and we could not do this without great leadership and support from our dedicated General Managers and restaurant teams who are on the frontlines.
I recently shared several steps the Company has taken to ensure the safety of our team members, including utilizing no-contact and limited-contact ordering options and focusing on social distancing practices at our restaurants. We also previously announced an Emergency Paid Sick Leave policy for our Company hourly employees to provide additional support for employees affected by COVID-19. Further, our Company General Managers and District Managers are eligible to receive monthly bonuses, and we have committed that we would protect part of their monthly bonus for March, recognizing that their business performance has been impacted by factors beyond their control.
Today, we are announcing incremental investments to recognize and support our Company restaurant employees.
Beginning this week, we are implementing Restaurant Recognition Pay for our Company restaurant teams. Hourly crew members, shift managers and assistant General Managers in Company restaurants will receive a 10% increase in hourly pay over the next five weeks. Additionally, we will again protect part of the monthly bonus for April for Company General Managers and District Managers.
As a small token of appreciation, we are also offering free meals for employees working in Company restaurants, and discounted family meals for employees on their days off.
I am humbled by the stories of how our teams and franchisees continue to support our communities by living our core values. From delivering breakfast and hot meals to very deserving first responders, healthcare workers and grocery store employees, to volunteering personal time to local causes and charitable organizations, I am very proud of how we collectively strive to do the right thing and give something back.
Our teams at the Wendy's Restaurant Support Center and in our Field Offices are working around the clock to support our restaurants. We are all in this together and will weather this storm as one Wendy's family.
Take care,
Todd