Need Some Good News? We Got You
Read up on positive Wendy's stories from around the world.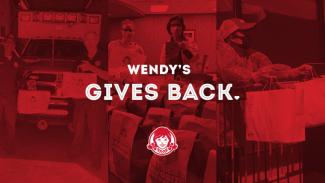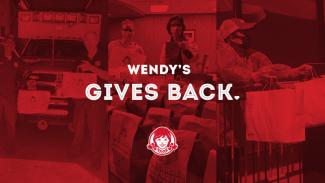 "We Got You®." Three simple words, eight letters, and in between the space is a simple idea: reassurance.
In times like this, when we face adversity and uncertainty disrupts the familiar, we can find resolve in unity and the spirit to rally and move forward.
From coast to coast across the U.S. and around the world, not only are Wendy's crew members working tirelessly throughout this pandemic to provide food to those who need it most, but they are showing incredible acts of kindness to help others impacted by COVID-19…and doing it in the Wendy's Way.
From New Delhi to New York, the Wendy's Family of franchisees, company operators, crew members, board members and more have shown resilience, grit and empathy to support those working the frontlines of this pandemic. Across the system, Wendy's is leveraging our capabilities to serve those community members with what we do best, our food, as a small token of our appreciation. 
Below are just a few of the many efforts from those in the Wendy's family who have gone above and beyond day-to-day operations.
Taking Care of Healthcare Workers
Members of our Wendy's family have expressed their gratitude across the world for healthcare workers and first responders on the frontline of this pandemic. Teams in Ontario, Guatemala, Atlanta, Virginia, across Florida and in Denver have been donating and coordinating deliveries of food to various local hospitals, fire departments, essential workers, nursing homes and testing facilities.
Through the support of our Tampa Wendy's family, we were able to feed all hospital employees at the Johns Hopkins All Children's Hospital in St. Petersburg, FL for an entire day. While on the other side of the state, the JAE restaurant group delivered 1,000 meals to hospitals in West Palm Beach.
And in one of the areas hardest hit by COVID-19, New York, franchisees and crew members have stepped-up to show appreciation and solidarity for the workers on the frontlines of the most impacted hospitals. In a collective effort between generous board members, Company teams and The Briad Group, more than 12,000 meals have already been or are scheduled for donation to hospitals throughout New York City and surrounding areas, including New York-Presbyterian, Hospital for Special Surgery, NYU Langone Medical Center and Elmhurst Hospital.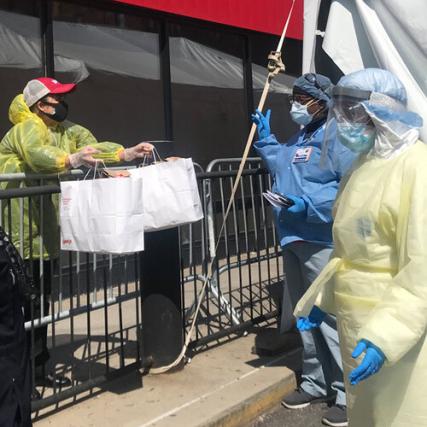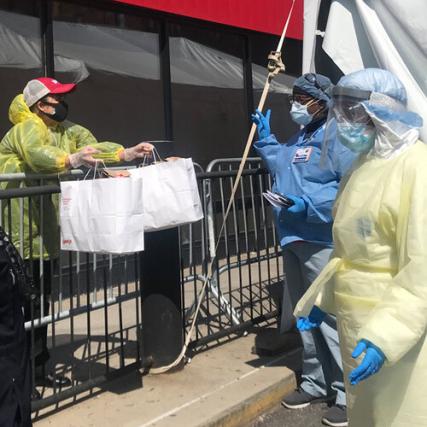 Goodwill Around the Globe
A Wendy's in New Delhi has provided free food to those in need, including a group of construction workers who got stuck at an on-site project and were not able to move due to lockdown restrictions. Hemant Gupta, Operations Head, told IANS that they "wanted to help on the ground."
Wendy's teams in the Latin America and Caribbean region have pulled together in their respective countries to provide food for 1,000 people, including workers and military personnel building a hospital in Guatemala, members of the El Salvador community who are in quarantine and sick children at the Robert Reid Cabral Hospital in the Dominican Republic. Many meals included handwritten notes from crew members with uplifting messages for those quarantined or gratitude for the workers' dedication.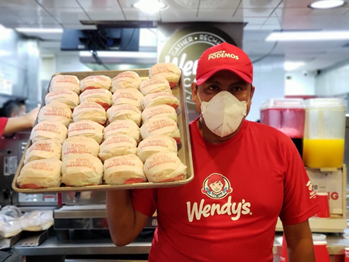 Additionally, Wendy's franchisee John Chayka and his wife Kathryn, who own 14 Wendy's restaurants through their company Compass Restaurant Group, donated and delivered more than 1,000 meals to frontline workers in the Niagara region of Southern Ontario who are fighting the spread of COVID-19. Moreover, John is also donating 20% of his salary to support COVID-19 relief efforts in Arizona where he and his family reside and where John also serves as the General Manager of the Arizona Coyotes hockey team.
Supporting Essential Workers in Our Communities
As truck drivers continue to keep our communities stocked with essential items, their usual food options on the road have become increasingly scarce as stores and restaurants adapt policies to reinforce safety procedures and protocols that make accessibility a little more difficult than usual. In one recent example, the night manager on duty at a Company restaurant in Circleville, Ohio, was able to help a truck driver making the trek from Canada to North Carolina with some free chicken nuggets, hot and crispy french fries and a drink. What was simply a crew member doing what he thought was right, made a huge impact for one person. 
And we'd also like to shine a light on our Wendy's Company crew in Dublin, Ohio who delivered breakfast sandwiches to local grocery stores, as well as free meals to construction workers. General Manager Stacey Rayburn has been leading the effort as a 'thank you' to these essential employees to show appreciation for their hard work and dedication during this time.
We're extremely proud of all the efforts we've seen and we know there are more out there. It's people like those above who shine bright and keep us going at times like these. If you know someone who works at Wendy's that you want to recognize, feel free to tweet us @Wendys!