Our Favorite Cheesy Foods At Wendy's
Learn All About Our Cheesiest Meals and Snacks on the Menu
Read time: 1 min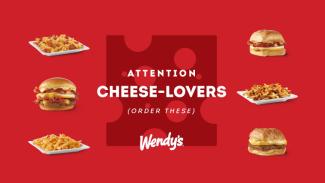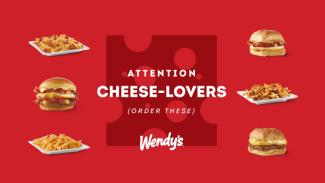 Cheese…what a beautiful, and frankly, delicious thing. Not only have we mastered the art of hand-cracked eggs, Spicy Nuggets, bacon and so much more at Wendy's®, but we also know a thing or two about infusing the tastiest, creamiest cheese sauces into fan-favorite menu items for everyone to enjoy. 
We know a great sauce when we come across one. Creating a perfect cheese sauce is something even the greatest chefs will tell you is difficult to master, but it's part of my mission to bring culinary-driven products to you, our fans. The best part is you can satisfy your craving for that mouthwatering, cheesy goodness in three ways: through our breakfast sandwiches, croissants and topped fry options. That means cheese in the morning, for an afternoon snack and at dinner…aka all day, every day. From Wendy's Breakfast Baconator® to our Sausage, Egg & Swiss Croissant to our Chili Cheese Fries, the options are endless.  
How to Get Your Wendy's Cheese Sauce Fix All Day, Every Day 
Our Breakfast Baconator, Sausage, Egg & Swiss Croissant and Bacon Egg & Swiss Croissant all feature a smooth swiss cheese sauce that's delectably good. What makes Wendy's cheese sauces so special, you may ask? For starters, the swiss cheese sauce effortlessly complements our crispy, oven-cooked bacon and grilled sausage, adding a creamy texture and warm, tasty flavor to every bite. It almost creates a "Sunday Brunch" benedict's vibe, leaving you with the most indulgent and craveable flavors your tastebuds could desire. 
If your tastebuds are officially in #CraveMode like mine, you're in luck—you can snag the Sausage, Egg & Swiss and Bacon Egg & Swiss Croissants for just $1.99* each now through October. That's two more months of getting your two new favorite breakfast croissants for less than $2. Simply order in-restaurant, via the drive-thru, or via mobile order to secure this deal. 
Pro Tip: No matter the Wendy's breakfast item you're craving, we make it easy for you to add a side of swiss cheese sauce to your order. Simply request the add-on in-restaurant or select in our mobile app—you can thank us later! 
Your Afternoons Deserve Some Cheesy Love, Too 
To keep getting your cheese on all day, every day, we've got your back with three loaded fry options featuring our tangy, buttery cheddar cheese sauce: Baconator® Fries, Chili Cheese Fries and classic Cheese Fries. 
Our Baconator Fries may just become your new favorite loaded fries. Featuring our classic natural-cut, skin-on, sea-salted fries, Baconator Fries are topped with a warm, creamy cheese sauce, shredded cheddar and our crispy Applewood smoked bacon. Big chili fan? Go the Chili Cheese Fries route—you won't be sorry. And of course, our classic Cheese Fries are just too classic not to love. Pro Tip: If you're looking to take your loaded fries to the next level, order our OG Cheese Fries, throw an order of everyone's favorite Spicy Nuggets on top, then drizzle this masterpiece with our all-new Ghost Pepper Ranch Sauce, and voilà—you've got yourself an all-American style spicy poutine.  
Now that you know not to sleep on Wendy's cheese sauces, head to your nearest Wendy's, place an order through our mobile app or your preferred delivery partner to get your cheese on. And don't forget—you can snag our delicious Sausage, Egg & Swiss and Bacon Egg & Swiss Croissants for just $1.99* each through October. Not to mention, you can earn points toward your favorite Wendy's items with Wendy's Rewards™ via our mobile app. 
Now that's something to wake up for! 
*Limited time only.  U.S. price and participation may vary.  Excludes Maple Bacon Chicken Croissant. Not valid in combo. Third-party delivery prices may vary. Check your local Wendy's for breakfast hours.