The Queen Of Spice Keeps It Hot With New Sauce
Wendy's is Keeping the Spice Alive with the New Ghost Pepper Ranch Dipping Sauce and a Hot BOGO Offer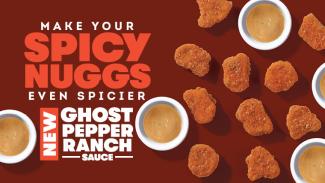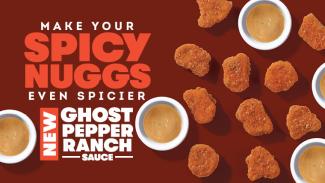 Wendy's brings fans the heat they crave and can't get anywhere else, cementing our status as the Queen of Spice. From the iconic Spicy Chicken Sandwich and fan-favorite Spicy Chicken Nuggets, to the recently launched Spicy Black Bean Burger and now the all-new Ghost Pepper Ranch Sauce, Wendy's delivers the kick fans expect from us.
That's not all. To spice up the news of the Ghost Pepper Ranch Sauce launch, Wendy's is offering not one but two tasty offers:
Score a BOGO for $1 offer that includes the one, the only 10 pc. Spicy Chicken Nuggets (or Crispy if spice isn't your thing), Spicy Chicken Sandwich, Classic Chicken Sandwich or a Dave's Single®*. To bag a BOGO for $1, simply head to a participating Wendy's or order via the Wendy's mobile app.
It gets even better—you can also snag FREE 6 pc. Nuggets (Spicy or Crispy) with purchase** via an exclusive in-app offer. Just apply the mobile offer to your mobile order or scan the mobile offer in-restaurant or in the drive-thru. (PRO TIP: This offer refreshes each week, meaning you can score free 6 pc. Nuggets five weeks in a row—but who's counting?)
People Don't Just Say Spicy Nuggets, They Say "Wendy's Spicy Nuggets"
Wendy's Spicy Chicken Nuggets are the standard by which all other spicy nuggets are judged against. Many have tried and failed, but there's nothing like the verified, original Wendy's Spicy Chicken Nuggets. Our Spicy Chicken Nuggets are legit.
But we don't stop there. We know our customers are constantly looking for the latest and greatest menu innovations, and I'm proud of the work my culinary team has done to create a legacy of spice that keeps fans coming back for more.
Craving some extra heat this summer? You're in luck.
Ghost Pepper Ranch Sauce + Wendy's Spicy Nuggets = Spicy Bliss
Wendy's Spicy Chicken Nuggets–often imitated, never duplicated–have a new fiery sauce to enhance the heat. Dip, dunk or spread Wendy's all-new Ghost Pepper Ranch Sauce to set your taste buds ablaze (in the best way possible). Yes, anyone can incorporate ghost peppers into a product simply for the novelty of using one of the hottest peppers on the planet. But only Wendy's can integrate while still delivering on our food vision—Fast Food Done Right—by finding the right balance of rich buttermilk creaminess from the Ranch, coupled with the hot, long-lasting heat of the ghost pepper. That's how we do things at Wendy's.
Available nationwide, customers can get Ghost Pepper Ranch Sauce dip cups for free at their local Wendy's. The new Ghost Pepper Ranch Sauce is sure to be your new go-to sauce, whether you're pairing it with OG Spicy Nuggets or putting it on top of your favorite Wendy's menu item.
Head to your closest Wendy's or place an order through our mobile app to get your sauce on. And don't forget, you can earn points toward your favorite Wendy's items with Wendy's Rewards™ via our mobile app.
*Limited time only. Price and participation may vary at U.S. Wendy's.  Offer only applies to Dave's Single, Spicy Chicken Sandwich, Classic Chicken Sandwich and 10-pc Nuggets.  Valid for item of equal or lesser value. A la carte only.  Not valid in a combo or with any other offer.
**Limited time only. Free Spicy or Crispy Nuggets with any purchase. Offer only available at participating U.S. Wendy's and must be redeemed via the Wendy's app.  App download and registration required. Not valid in a combo, with any other offer or for delivery orders placed outside of the Wendy's app.  See offer in Wendy's app for further details.