Todd Penegor Delivers Commencement Address at MSU
Read time: 1 min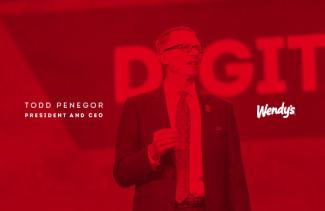 Todd Penegor, President and CEO of The Wendy's Company, returned to his alma mater - Michigan State University's Broad College of Business - to deliver the commencement address on May 6, 2017. His advice: seize the moments life brings your way.
"With a strong Spartan work ethic, value system and educational training, I know that your paths will take you on many adventures in your life," Penegor said. "My advice to all of you is to be bold. Take advantage of the opportunities that you see or are given, even if they weren't in your original plan."
The time Todd spent at MSU, earning his bachelor's degree in accounting and an MBA in finance, prepared him for a lot of the career opportunities he would encounter over the next thirty years, including his leadership roles at Ford Motor Company and Kellogg Company.
In 2013, Todd joined the Wendy's family as chief financial officer and was named CEO in May 2016. He attributed his success, to the people around him—his team.
"I've learned that the best teams are full of people who are more interested in seeing the team win than their own personal glory. Be part of teams that love working together!"