Welcome to The Square Deal
Welcome to the official Wendy's® blog! Learn more about our food vision, sustainable supply chain practices and innovative expansion & growth.
Read time: 1 min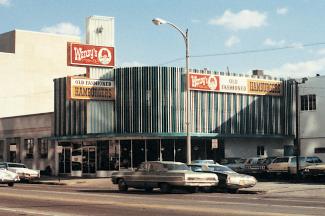 Welcome to the inaugural post of Wendy's® The Square Deal™.  Why launch a blog? Well, quite simply, we want to start a conversation from the point of view of those of us tasked to lead our organization and live out the values that Wendy's was built upon. We aim to create a forum to tell Wendy's story and highlight the beliefs that guide our business and our decisions every day. You'll often hear from me, Bry Roth (our Manager of Corporate Social Responsibility) and several others throughout the Wendy's family who are particularly passionate and knowledgeable about certain topics.
In 1969, Dave Thomas founded Wendy's with a simple idea. Great food, served hot and fresh, by nice people in a friendly restaurant. The Wendy's family lost Dave a number of years ago, but his values and legacy continue to guide us today. And we think a great way to honor him is to share his values with you.
The Square Deal is a nod to our signature square hamburgers – something Dave created because his childhood role model, Grandma Minnie, taught him to Never Cut Corners. 
He became an American icon, but Dave's early life was far from privileged. He was adopted as a baby, but his adoptive mother died when he was very young. His father remarried three times and often struggled to find a job so the family moved around frequently. Dave found solace and community in restaurants – he recalled being eight-years-old when he first dreamed of starting a restaurant where "everyone would love my food."
Today, we remain committed to his ideals and we are fortunate to be guided by an enduring set of values that Dave left us.  The beauty is in their simplicity:
Quality® is our Recipe. From the hamburgers we serve to the customer service we provide, we don't cut corners.

Treat People with Respect, including everyone we come into contact with – employees, customers and suppliers.

Profit Means Growth recognizes that operating a successful business creates growth opportunities for everyone, and allows us to give back.

Giving Something Back embraces Dave's example in our restaurants and communities around the world.

And finally, perhaps our simplest value of all. No matter what and especially when it matters most – We Do the Right Thing.
Doing the Right Thing is our way of doing business.  And, we'll use this space to give you The Square Deal – our views on food, quality, culture, children's issues and doing our best to make Dave proud.  Please come back regularly to check out our latest blog, and as I mentioned earlier, this forum is a conversation starter. You are welcome and encouraged to post your comments below, fill out the 'contact us' form or drop us a note at squaredeal@wendys.com.
Talk to you soon!
Liliana