Wendy's 2023 Progress Update on Corporate Responsibility
Chief Corporate Affairs and Sustainability Officer, Liliana Esposito, shares how Wendy's is making strides across "Good Done Right" core focus areas: Food, People and Footprint.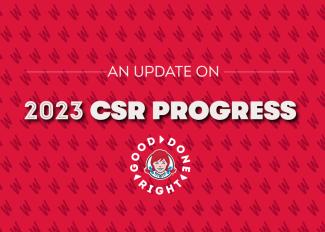 Advancing Good Done Right progress every day 
At Wendy's®, we don't settle for "good enough" when serving up quality—and the same is true when it comes to how we source our ingredients, our role in local communities and the experience of Wendy's team members. I've written before about our approach to corporate responsibility, what we call 'Good Done Right', and how we hold ourselves accountable by sharing our progress regularly against the ambitious goals we've set across each of our strategic pillars of Food, People and Footprint. 
Consider this a halftime report—an update on our progress at the midpoint of our 2023 annual reporting cycle. As you'll read, we're making strides across each of our core focus areas, and you can read more about our work in the Wendy's 2023 Corporate Responsibility Report that we plan on publishing next spring.  
Governance: Enhancing Oversight, Diversity and Accountability 
Earlier this year, we increased the size of our Board of Directors from 11 to 12 members as Michelle Caruso-Cabrera, the Chief Executive Officer of MCC Productions LLC, was elected to serve as a director of the Company. Caruso-Cabrera has been recognized with several accolades and awards throughout her more than 20-year business and financial journalism career and provides valuable expertise in communications and business analysis, while bringing a global perspective to her new role.  
More recently, the Board of Directors created the position of lead independent director and appointed Arthur B. Winkleblack to serve in this role. Mr. Winkleblack has served as a member of the Board since May 2016 and will continue to serve as a member of the Nominating and Corporate Governance Committee, in addition to Chair of the Audit Committee. The creation of a lead independent director position reflects corporate governance best practices, enhances Board leadership and oversight, and facilitates communication between the Chairman of the Board and the independent directors. 
Food: Responsible Sourcing and Food Safety, Quality and Innovation 
We are making progress toward our goal of responsibly sourcing our top 10 priority food categories by 2030 in the U.S. and Canada. This year, we continued to onboard in-scope suppliers into the EcoVadis platform, which we use to help demonstrate accountability and advancement toward our goal. To date, we've invited 100% of in-scope suppliers to participate, and approximately 40% have already completed the assessment.  
The Animal Care Standards Program, implemented in partnership with Wendy's Animal Welfare Council, is a critical component of our commitment to responsible sourcing. Through this program, Wendy's aims to have a comprehensive accounting of animal welfare practices for beef, pork, chicken, eggs and dairy in the U.S. and Canada by the end of 2024. In 2023, we hit the important milestone of evaluating all our direct suppliers across each of these supply chains and made progress evaluating upstream suppliers, including several of the farms and facilities that provide products to our direct suppliers.   
Central to our responsible sourcing work is a task that's less visible than others, but just as important: establishing and maintaining strong specification and data management systems and processes. To do that, Wendy's began implementing, an enterprise-wide specification and document management system. This system will help us digitize and manage important documentation and processes, which could include raw material sourcing, nutrition and ingredient processes, responsible sourcing claims validation, third-party audit verification and more.  
People: Supporting Our Employees and Communities 
We're focused on building inclusive and equitable workplaces and communities across our global footprint. We empower our Company team members to bring their authentic selves to work, and our employee resource groups (ERG) have continued to foster inclusivity for all employees. Across our seven ERGs, we have hosted more than 40 events, including WeQual joining the Chicago Pride parade and Wendy's Cultural Diversity (WCD) group recognizing National Hispanic Heritage Month. We're proud of the variety of in-person and virtual ERG events that provide resources, connections and development opportunities for all Company employees. 
To support our Company employees, in September, we implemented a new cloud-based human resources and payroll system through a Company initiative called Work Done Right. This work has allowed us to standardize and simplify business processes that are now enhanced by mobile-friendly technology. With the new system, employees spend less time on administrative tasks and more time focused on driving the business and engaging with our customers. The technology also caters to the different needs of our Company employees, both in the restaurant and at our Restaurant Support Center, by bringing our culture into the digital realm while providing access to information and tasks to support career growth and work-life balance.  
In celebrating the Wendy's family across the System, Wendy's recognized the Top 200 General Managers (GMs) from around the world during our annual Franchise Convention in the Washington, D.C. area. With more than 7,000 Wendy's GMs across the System, this year's award-winners represent the best of the best, spanning 32 countries and U.S. territories and averaging 15 years with the brand. During our convention, we also inducted Pick Lindsey, a trailblazing franchisee, into the Wendy's Hall of Fame. Pick joined the System with four restaurants in 1997 and has since grown his business to 89 restaurants. Pick has served in leadership roles and paved the way forward as an early adopter of new restaurant design and product innovations. Pick has also created a culture of operational excellence within his franchise organization through investments in his people and restaurants. 
True to Dave Thomas' values, Wendy's does what it can to take care of its family. Through our WeCare program, team members within the Wendy's System in the U.S. and Canada who have faced financial hardship as the result of natural disasters or states of emergency can access short-term financial assistance. This year, Wendy's restaurants and team members in Guam were in the path of Typhoon Mawar, which was declared a major disaster on May 27. Through WeCare, we distributed $42,000 in grants to 112 team members in the region. 
Wendy's remains deeply committed to serving the communities in which the more than 7,000 Wendy's restaurants operate around the world. The Wendy's System kicked off the "Season of Giving" strong with record support of the Dave Thomas Foundation for Adoption® during the annual Frosty® Boo! Books® campaign, which raised an unprecedented $9.2 million. Additionally, our virtual Frosty 5K Run for Adoption raised more than $215,000, all in support of foster care adoption. Add to this our support of Professional Work-Study opportunities at the Restaurant Support Center for local youth to donating more than 10,000 cans of food to the local Dublin Food Pantry, Wendy's is all-in on giving back through community focused efforts to drive impact.  
Footprint: Environmental Sustainability  
Since announcing our near-term science-based target in February, we have increased the number of Wendy's restaurants reporting energy data and expanded our access to renewable energy. Our Wendy's Energy Challenge invites franchisees to implement energy efficiency improvements and track and report their energy use, and we are proud to share that we more than doubled the number of franchisees participating in the program in the first half of 2023. This year, nearly 1,800 Franchise-operated restaurants (37 franchisees) and all Company-operated restaurants reported 2022 energy data. By increasing participation in the program, we are making progress in engaging franchisees to undertake emissions reductions that will contribute to our goal of reducing franchise emissions by 47% per restaurant by 2030, from a 2019 baseline.  
We are also longstanding participants in the U.S. Department of Energy's Better Buildings Challenge, which inspired our own Wendy's Energy Challenge and plays an important role in our energy efficiency progress. Beyond leveraging the program to drive energy improvements in Company-operated restaurants, we also encourage our U.S. franchisees to participate. To date, there are 33 franchisees participating in the program, and this year, one of our franchisees, WEN-GAP, LLC, achieved its Better Buildings Challenge goal of reducing its energy intensity by 22% from a 2014 base year, covering 54,000 square feet of property. WEN-GAP attributes its success in realizing energy reductions to installing LED lighting, upgrading HVAC units with high efficiency units and leveraging available rebates to help fund this progress. 
We have identified community solar programs as a viable means of offering renewable energy for some restaurants and have continued to grow solar procurement through these programs. Currently, 22 Company-operated restaurants in Central Florida are sourcing 100% renewable energy via Duke Energy's Clean Energy Connect program, totaling 3,850 kilowatts (kW). We are making progress to expand access to solar energy for our franchisees and plan to share more details in 2024.  
In service of our goal to sustainably source 100% of our customer-facing packaging in the U.S. and Canada by 2026, we have taken actions to improve our recycling practices and in-restaurant customer education in select regions. In July, we completed a pilot that introduced recycling and educational signage at bins for customers and restaurant teams at eight Company-operated restaurants in the Chicago area. The pilot improved diversion rate by an average of 44% across pilot locations and optimized pickup schedules based on information from our waste metering technology partner. Our Canadian restaurants have also made moves to help customers navigate how to recycle and compost Wendy's packaging by displaying signage at waste receptacles with guidance on disposing by item type, in line with local requirements.  
Our work is never done – and it's never done on our own 
Many of our efforts depend on coordination with local, regional, national and global partners. As a global brand, with restaurants in 32 countries and U.S. territories around the world, the Wendy's System aims to do our fair share. Driving change often takes innovation. It takes hard work and recognizing areas where we can do better. We're no strangers to either. 
Every year, Wendy's Good Done Right Award recognizes a supplier who has stood out in its commitment to enhancing our corporate responsibility pillars of Food, People and Footprint. In 2023, we are proud to recognize Sysco, one of our largest distributor partners in the U.S. and Canada, for its work in these areas. Across its operations, Sysco is emphasizing solutions like diverting food waste to produce animal feed, composting and leveraging meal donations to serve those in need. The company also announced an innovative new partnership to supply its transportation fleet with reduced-emission commercial trailers equipped with electric refrigeration units and set a goal to establish responsible sourcing guidelines by 2025 for five of its priority commodities. 
Good Done Right continues to be our guiding principle, in our restaurants, at our Restaurant Support Center and across the Wendy's System. We look forward to sharing more progress in our 2023 Corporate Responsibility report in April.