Wendy's Celebrates Global Restaurant Team Appreciation Week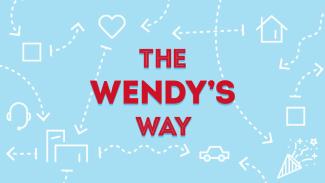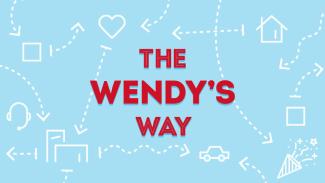 In 2020, Wendy's® launched its first-ever Global Restaurant Team Appreciation Week, which is dedicated to recognizing and saying "thank you" to all restaurant managers, team members and District Managers across the Wendy's System of more than 6,800 restaurants. This year, starting on May 17, we celebrated the second annual Global Restaurant Team Appreciation Week.
To jump start the festivities, Wendy's Company employees came together virtually to say "Thank You!" to our restaurant teams.
Celebrations in the U.S.
In the U.S., "All-Star" restaurant teams were recognized with a variety of fun activities and gifts, including themed dress-up days, awards, recognition cards, Wendy's swag, food and more.
In Las Vegas, the WeNevada team celebrated with daily costume themes that included Silly Sock Day, Crazy Hat Day, Wear Your Favorite Color Day, and Fast Friday Vegas Style. They also handed out treats and lapel pins while recognizing their All-Stars across 28 locations.
The Florida division made each day special by spotlighting All-Star crew members on Tuesday, All-Star Shift Managers on Wednesday, and All-Star Assistant General Managers and General Managers on Thursday. Each spotlight included individual photos of each team member and was shared across the area.
Franchise organization Wend American, which is part of Flynn Restaurant Group, got into the spirit with Team Tuesday and asked employees to dress up in their favorite sports team gear. Phoenix Partners and Bronco Burgers organizations celebrated their teams with personal handwritten recognition cards, and the HAZA Foods teams of Houston and Austin suited up in superhero costumes to kick off the week strong.
Some restaurants across the U.S. also used Restaurant Team Appreciation Week to celebrate team members graduating high school or college. In Orlando, Florida, Wendy's Company restaurants made their graduating seniors feel special with a traditional graduation party that included gifts, food, flowers, Wendy's honorary graduate diplomas, decorations and photo props.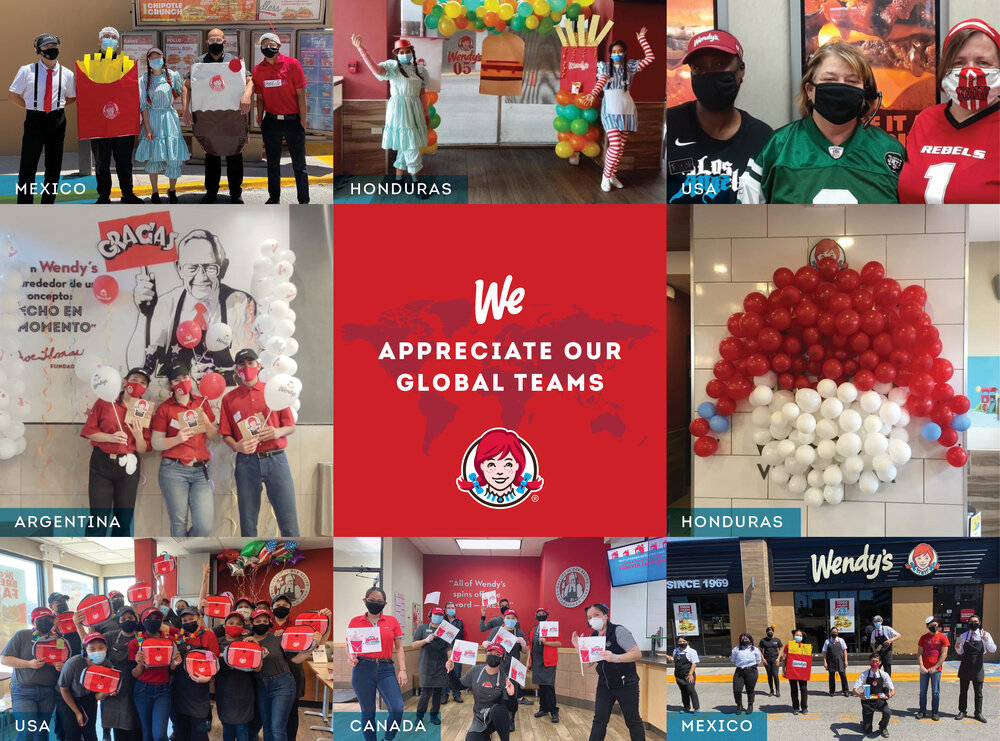 International Celebrations
Canada
The Tollcorp team celebrated Restaurant Team Appreciation Week with gifts for their team members including Wendy's water bottles, tumblers and gift cards. They also held a daily raffle drawing during staff huddles, awarded appreciation certificates to recognize team members and shared success stories through a nomination board.
LAC
In the Latin America and Caribbean region, restaurant teams dressed up with fun themes like Crazy Hat Day in Panama, Jersey Day in Aruba, Cowboy Day in the Cayman Islands and Fun Face Mask Day in Guatemala. One restaurant in Honduras invited teams to decorate their dining room with palm tree leaves, a hammock and a balloon wall featuring the Wendy's logo. In Argentina, one restaurant celebrated with Wendy's themed cakes.
APMEA
In the Asian Pacific and Middle Eastern region, teams from the Caucasus region, Indonesia, Philippines and United Arab Emirates worked together to create a Pass The Frosty® video where restaurant teams recorded videos of crew members making a Frosty and then passing it out of frame. When these video clips were combined, they showed our Wendy's Family passing a Frosty across the APMEA region.
Little Things Make Big Things Happen
At Wendy's, we believe that recognition can go a long way. In the words of Brand General Manager Carolina Curovix, "It's the little details that are vital. Little things make big things happen. It may seem like a little thing, but that little thing makes a big difference." Success as a brand starts at the restaurant, and Wendy's is thankful for each of our team members.